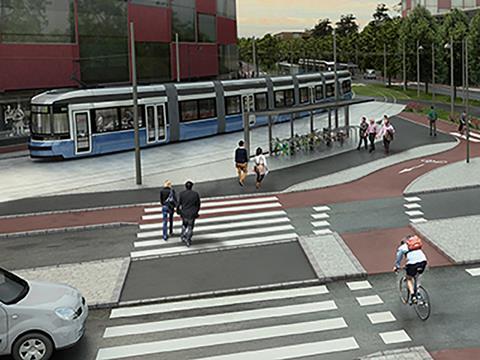 FINLAND: A revised cost estimate for the planned Raide-Jokeri orbital light rail line that would link Helsinki with Espoo has been announced. If this is approved by the two city governments, construction can begin in June.
The 25 km route is now expected to cost €566m, including €110m for a fleet of 29 trams and €69·5m for the construction of a depot. According to the cities' transport authorities, this is higher than the initial estimate because of increasing land prices.
Helsinki and Espoo councils formally approved the project in November 2018, and opening could take place in mid-2024.
The 25 km route linking Itäkeskus in eastern Helsinki to Keilaniemi in eastern Espoo is intended to replace bus route 550, which currently carries 40 000 passengers a day. Ridership on the light rail line is forecast to be 90 000 passengers a day by 2025, rising to 102 000 by 2040. The project is premised on a forecast increase in the population of Greater Helsinki to 2 million in 2050.
The alignment, including 16 km in Helsinki and 9 km in Espoo, would be mostly segregated from other traffic. Škoda subsidiary Transtech has been selected to supply a fleet of Artic XL trams.