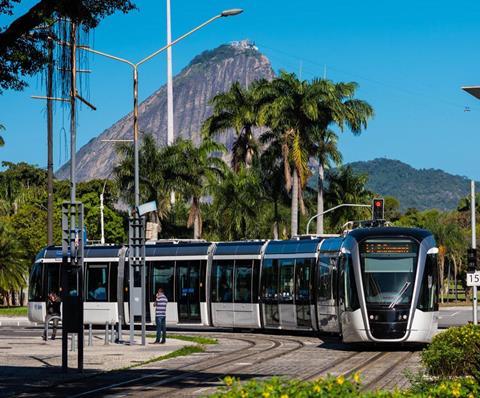 BRAZIL: The final section of the VLT Carioca tram network in Rio de Janeiro was inaugurated on October 26, with passenger services beginning at noon.
The opening of 1·3 km of new alignment adds a third route to the network. Route 3 services run from Santos Dumont Airport to Centro do Brasil, sharing the existing tracks with Route 1 before diverging onto the new branch to reach Central do Brasil. The new alignment runs along Rua Visconde de Inhauma and Avenida Mal Floriano between the Candelária and Central do Brasil, with intermediate stops at Santa Rita, Camerino and Itamaraty.
Opening of the last section was delayed by disagreements between the city authorities and tram operator VLT Carioca regarding subsidies. It follows the entry into service of the first phase in June 2016 and the second the following February. With the opening of the latest section, ridership is expected to grow to 100 000 passengers a day from the current 80 000.