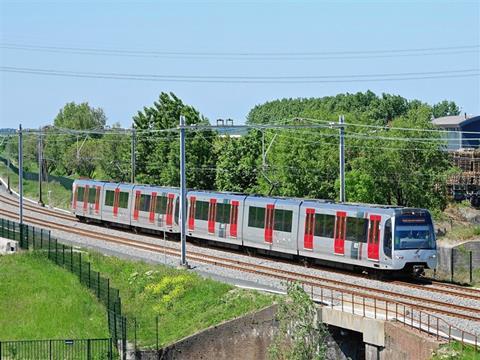 NETHERLANDS: September 30 saw the start of revenue services on the Schiedam Niewland – Hoek van Holland line following conversion of the former railway line to metro operation. The line reopened for free rides over the weekend of September 28-29, two years later than expected.
Conversion of the 24 km line to metro standards allows RET metro services to be extended beyond Schiedam. Metro Line A (Binnenhof – Beurs – Schiedam) has been extended to Vlaardingen West and Line B (Nesseland – Beurs – Schiedam) to Maassluis and Hoek van Holland Haven. This initially provides 12 trains/h from Schiedam to Vlaardingen, six trains/h from there to Maassluis and three trains/h to Hoek van Holland Haven. The final stage of the project, which will see the short spur to Hoek van Holland Strand extended closer to the beach, taking its length to 1 200 m, is not now expected to be completed until mid-2022.
All of the track has been refurbished, the stations have been modernised and a new stop has been built at Steendijkpolder. The 800 mm high platforms at the intermediate stations have been modified to suit the 1 055 mm floor height of the new rolling stock, and have been shortened to 93 m, sufficient for two trainsets in multiple.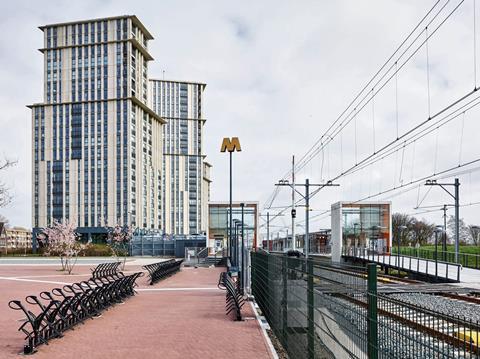 The existing overhead line equipment has been retained, but instead of being powered at 1·5 kV DC from three substations, it is fed at 750 V DC from 10, permitting a more intensive service.
To operate the converted line, RET has purchased 22 Bombardier Swift three-car trainsets, designated HSG3. These are 41·7 m long with all axles driven, and can take 750 V DC from both third rail and overhead line.
Provision has been retained for the continued operation of rail freight services to Vlaardingen, with around 15 trains per week expected to use the line. Because main line freight wagons are much wider than the RET metro vehicles, interlaced track has been provided on one line to clear the platform faces; freight trains will be limited to 40 km/h.
Conversion work delayed
The double-track railway had been an important international link since opening in 1893, connecting with North Sea ferry services at Hoek van Holland, and carrying trains to many parts of Europe. However, the last Hoek – Warszawa express was withdrawn in May 1993, and the last boat train to Amsterdam at the end of 2006. After that, the line became a regional branch served by local trains from Rotterdam run by national passenger operator NS.
Responsibility for the route was transferred from the national railway to the metropolitan region of Den Haag – Rotterdam on January 1 2015. NS services were suspended at the end of March 2017 and replaced by a bus shuttle to facilitate what was expected to be a six-month rebuilding.
Completion of the conversion work was reportedly delayed by software problems with two level crossings along the route; RET has operated around 1 400 test trains, but decided to maintain buses on standby following the opening in case of further problems. As well as being two years late, the project is reported to be €90m over budget, with an outturn cost of €463m.