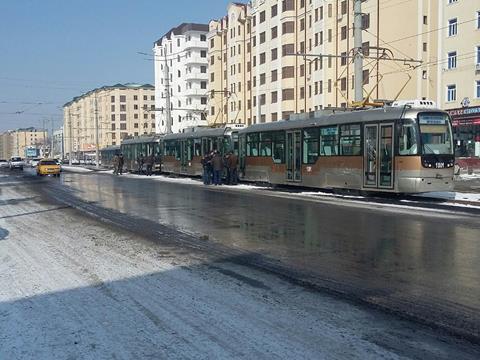 UZBEKISTAN: Trial operation began on the second tram route in Samarkand on February 3.
Route 2 runs from the main railway station to Siab Bazaar on a 5·1 km partly segregated alignment, of which 250 m is shared with Route 1, which opened on March 29 last year.
Two trams are currently running without a fixed timetable, each making three or four round trips per afternoon. Regular operation, due to begin in a few days, would see five to seven trams running at 7 min headways between 6.00 and 23.00. The end-to-end journey time is 20 min.
As with the first route, the vehicles are VarioLF single-section trams originally supplied by Pragoimex to Toshkent before that city's tram network closed.
The route was built by national railway UTY between May 2017 and January 2018. The depot is still under construction, with the trams using a temporary facility on the site of a bus depot.