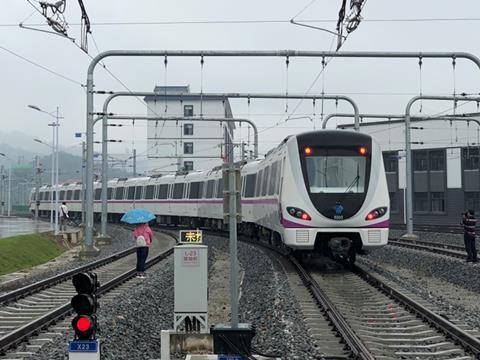 CHINA: The third metro line in Nanning opened on June 6, with the first passenger service running at 09.28.
The first phase of Line 3 runs on a 27·9 km north-south underground alignment from Keyuan Dadao to Pingliang Overpass. There are 22 stations, including interchanges with the city's two other metro lines; one station is yet to open. The end-to-end journey time is 48 min, and services run at 8 min headways.
Services are operated using a fleet of 28 six-car Type B trainsets consisting of four powered and two unpowered cars, with a maximum speed of 80 km/h. The 120 m long trainsets have a crush load capacity of 2 088 passengers including 232 seated. The rolling stock was ordered last year; the first 16 trains were made by CRRC Zhuzhou and the other 12 by Nanning CRRC Rail Transportation Equipment Co. The fleet is stabled a depot near the line's southern terminus.
The National Development & Reform Commission approved the project in January 2015 and main construction works began later that year. Tunnelling was completed in April 2018 and tracklaying in September 2018.
Line 3 brings the Nanning network to 81·2 route-km. Two more lines expected to open by 2021, with five more lines planned in the longer term. Once all 10 planned lines are operational, the network would grow to 270 km.