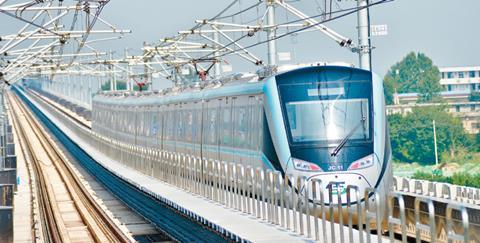 CHINA: The Xi'an Airport Intercity Line opened to passengers at 12.30 on September 29.
The 29·3 km route connects Beikezhan with Airport West, which serves terminals 1, 2 and 3. Most of the route is elevated, with a total of 8·5 km at both ends of the line underground. In addition to the two termini, Airport T5 station is underground, although this station is still to open. Once it does, the line will have 10 stations.
Services are operated by Shaanxi Intercity Railway Co using a fleet of six-car Type B trainsets. Passengers can travel between 06.00 and 23.30, with the end-to-end journey taking 33 min.
Interchange is provided with metro Line 4 at Beikezhan. In the future, this will also be an interchange for metro Line 14, a 13·8 km route that will run east from Beikezhan to Heshaocun, serving seven stations.
The opening of the Airport Intercity Line came three days after the inauguration of a 6·1 km extension of metro Line 1. The western extension from Houweizhai to Fenghesenlingongyuan adds four stations. Construction started in October 2014, and a further westward extension from Fenghesenlingongyuan has been approved.