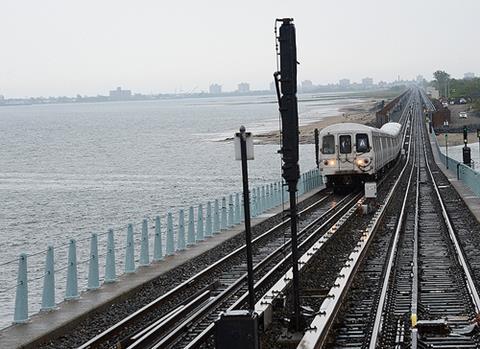 USA: New York subway services were restored to the Rockaways peninsula of coastal Queens on May 30 following completion of more than six months of repairs to the storm-damaged metro line.
A series of bridges and narrow causeways totalling 5·6 km carries subway Line A across Jamaica Bay, which separates the Rockaways peninsula from the rest of the borough of Queens. Described by New York MTA as 'the most exposed area in the subway network', the alignment was all but washed away by tropical storm Sandy which made landfall in the New York area at the end of October 2012.
MTA's repair programme included the reconstruction of 450 m of track, substantial renewal of earthworks and sub-grade layers, the wholesale replacement of signalling and telecoms equipment, and the renovation of stations at Beach 116th Street and Broad Channel.
The subway line also provides a barrier between the salt water Jamaica Bay and the fresh water Jamaica Wildlife Refuge, and during the storm floodwater pouring over the tracks caused substantial ecological damage to the nature reserve. At a cost of $15·7m, MTA has chosen to install 3 km of corrugated marine steel sheeting to form a 3 m high sea wall along the causeway in an effort to provide long-term protection against future storm surges.
MTA had provided an isolated subway shuttle serving seven stations along the peninsula from Beach 90 St to Far Rockaway/Mott Avenue using R32 trainsets that were transferred by road in November 2012. A free bus shuttle around the perimeter of John F Kennedy airport linked Mott Avenue station to the rest of the network at Howard Beach/JFK Airport station.
Reopening of the line across the causeway marks the completion of MTA's efforts to restore traffic to the entire subway network, but it continues to let contracts for long-term storm defence and mitigation work under its 'Fix & Fortify' programme, funded through more than $1·2bn in post-Sandy contributions from the Federal Transit Administration.
'We are using all means available to jump-start this effort, so we can not only restore our system to the condition it was in before Sandy struck, but harden it against similar storms that we expect to arrive in the future', MTA's Interim Executive Director Thomas Prendergast said on May 16.