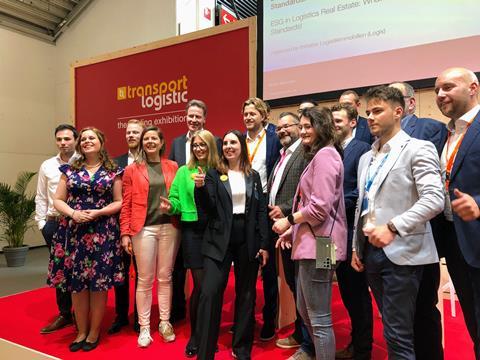 EUROPE: More needs to be done to attract younger people to work in the sector, representatives of the Dutch rail freight industry said at the Transport Logistic trade fair in München.
The announcement on May 9 was co-ordinated by Rail Cargo Information Netherlands and partners to mark the start of the EU Year of Skills.
It builds on the Rail Freight, The Future is Ours report the partners put together in 2021 to inform the Dutch public and policymakers about the societal benefits of rail transport.
The goal of the campaign is to inspire and motivate both the upcoming and existing workforce, aligning skills and ambitions with the available opportunities in the rail sector with the aim of facilitating a transition towards greener and more digital practices within the industry.
Later this year young professionals working in logistics will begin acting as ambassadors to highlight how the rail sector is working on innovation, which products are transported by rail, and which skills make this sector so interesting and challenging as a career.
Boudewijn Siemons, COO of the Port of Rotterdam Authority which is one of the founding members of the initiative, explained that 'both the port of Rotterdam and the rail freight sector can substantially contribute to European climate ambitions. We welcome initiatives that promote the rail freight sector and underline the importance of this mode of transport. The sector offers attractive career opportunities, and we can never attract enough talent at all levels to support us in reaching our ambitions.'
John Voppen, CEO of infrastructure manager ProRail, said 'good rail workers are the backbone of a safe and efficient railway system. At ProRail, we understand the importance of skilled railway workers and the need for collaboration with our neighbouring countries to enhance railway infrastructure throughout Europe. We take pride in being one of the founding members of Rail Freight, The Future is Ours initiative, and fully support the EU Year of Skills through this platform.'
European collaboration
The Future is Ours platform aims to create more connections with talented young professionals across Europe, both by promoting the exchange of knowledge and experience and by jointly formulating the required skills and policies for the future to overcome obstacles.
The rail ambassadors will visit Brussels in the autumn to share their findings with the European Commission. Marleen van de Kerkhof, board member at RCIN, hopes this will be the precursor for an annual event in Brussels to share practical examples that can also promote diversity. This will be aligned with the EU-backed STAFFER programme to define future skills in the rail sector and ensure they align with education.
'There's so much potential to build connections between young people across the industry in Europe', van de Kerkhof told Railway Gazette International at Transport Logistic. 'Amid all the other challenges facing the rail sector at the moment, we can't let future skills and diversity fall off the agenda.'