EUROPE: The European Union Agency for Railways is set to host its third safety conference in the vibrant Baltic capital of Tallinn, Estonia. Taking place on September 20-21, the two-day event is expected to draw approximately 300 rail professionals and safety specialists.
The conference will revolve around the central theme of 'Learning', encompassing a wide array of activities and individuals that serve as the bedrock of railway safety. 'We need to create a culture [in the rail sector] in which people feel empowered, if not required, to speak up when they see a problem', says Keir Fitch, Head of the Rail Safety & Interoperability Unit at the European Commission.
Delving into various aspects of rail safety, the conference aims to shed light on valuable lessons that can be gleaned from safety culture peer reviews. Furthermore, it seeks to explore the potential knowledge transfer between the railway industry and other sectors, examining their routines and performance to identify best practice.
'A positive and just culture for safety represents a massive opportunity for senior management to get staff engaged and walk the extra mile for the organisation'

Tony Licu, Head of the Safety Unit at European air traffic management body Eurocontrol
Additionally, the conference will focus on leveraging accident investigations as catalysts for overall improvements within the railway sector. By analysing near misses, attendees will also gain insights into preventive measures to avert future incidents. The role of 'big data' in revolutionising railway safety will be explored, along with the implementation of techniques to influence safety behaviour and enhance the effectiveness of safety training.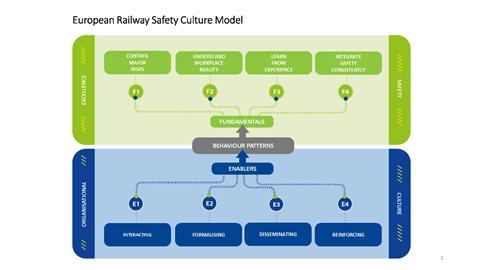 ERA has assembled a diverse set of speakers to assess how best to embed a safety culture across the sector, while also offering a networking platform, fostering safety awareness across the sector.
The Tallinn edition is intended to build upon the inaugural Railway Safety Days conference in Dubrovnik in 2018, which started the process leading to 250 rail senior managers signing the European Rail Safety Culture Declaration, and the second edition held in Porto in 2021, which unveiled the results of the European Rail Safety Climate Survey with over 46 500 respondents.
In 2023, ERA will introduce key initiatives aimed at promoting learning within the industry. These include the launch of an ambitious portfolio of safety training modules and a call for the qualification and promotion of training courses that have proven to support stakeholders in implementing EU legislation.
Drawing on the positive feedback from previous event, the conference will offer delegates the opportunity to participate in two out of eight interactive workshops, covering subjects such as communication, cognition, strategy, and intervention. Each of the three days will conclude with a session featuring insights from keynote speakers who will share their perspectives on the proceedings they have heard.
In addition, the Estonian infrastructure manager Eesti Raudtee is to host three technical visits on September 22, although attendees should note that these tours are of limited capacity.
Websites
We are not responsible for the content of external sites