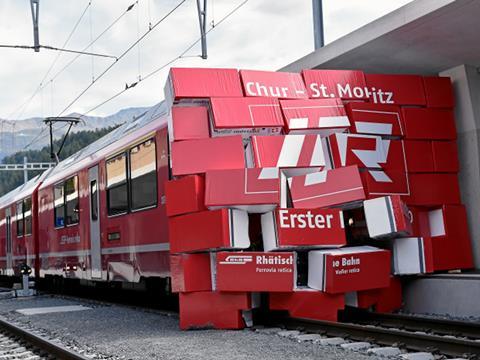 SWITZERLAND: Arrival of a special InterRegio train from Chur marked the opening of the rebuilt Rhätische Bahn station on August 26. The train broke through a polystyrene barrier in front of guests who included Deputy President of the Graubünden Canton Mario Cavigelli. RhB Director Renato Fasciati took the opportunity to announce that within a few weeks all St Moritz – Chur services would be operated with Alvra push-pull trainsets once deliveries were complete.
The SFr66m project to reconstruct the terminus was launched in 2014. With five covered platform tracks, the station meets the latest national accessibility regulations.
Over 1 million passengers a year pass through the station, which now offers covered interchange between trains and local bus services. The station also includes four spaces for tour coaches connecting with Bernina Express or Glacier Express services.