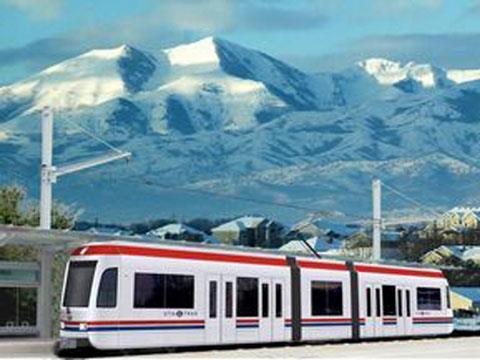 USA: Celebrations are being held in Salt Lake County on August 3 to mark the completion of Utah Transit Authority's Mid-Jordan and West Valley TRAX light rail extensions, with free rides being offered on both routes. The two lines are being built as part of UTA's Frontlines 2015 expansion programme, and will open for revenue service on August 7.
The 8 km West Valley Line diverges from the existing Sandy Line at Central Pointe station (2100 South) and runs southwest to West Valley City Hall, serving four new stations.
The 16 km Mid-Jordan line follows the former Bingham Branch Railroad corridor, running southwest from the Sandy Line at 6400 South station. It runs west to 5600 West and then turns south to serve Kennecott Land's new Daybreak development in South Jordan, terminating at Daybreak Parkway. This route adds nine new stations.
With the start of revenue operation on August 7, the existing TRAX network will be reconfigured as three coloured routes. The Sandy Line between Salt Lake Central Station and Sandy Civic Center will be designated as the Blue Line, while the short eastern branch to University Medical Center completed for the 2002 Winter Olympics becomes the Red Line, but instead of continuing into the city centre services will now turn south and run to Daybreak Parkway run via the Mid-Jordan Line. Green Line services will run from Salt Lake Central Station to West Valley Central. All three routes will share the tracks between Courthouse and Central Pointe.