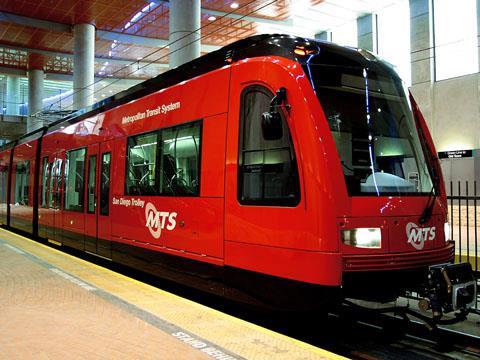 USA: The Metropolitan Transit System board approved an order for 57 Siemens S70 Avanto light rail vehicles for the San Diego Trolley on September 24, with an option for a further eight.
The new LRVs will cost $3·6m each, and are part of an option for 180 included in the purchase of 77 by Utah Transit Authority that has now been transferred to MTS. The first four LRVs must arrive by September 30 2011, followed by four per month thereafter with delivery completed by the end of 2012.
At 25 m they will be 2·44 m shorter than the 11 cars which were delivered in 2005. This will allow the use of three -car trains on C Street without blocking junctions.
They form the fourth variant of the S70 for a US customer. Those for Houston and Charlotte are 29 m long, while the 22 for Portland have single cabs for operation in pairs. All are approximately 70% low floor.
MTS board chairman Harry Mathis said the purchase marks the beginning of a long-planned $619·3m four-year modernisation of the oldest sections of the Blue and Orange lines which will be funded by sales tax, federal stimulus funds and a voter-approved bond issue.
Work is expected to get underway next year and will include rebuilding 11 stations; adapting all Blue and Orange platforms for low-floor LRVs; replacing life expired track, and upgrading the overhead electrification.