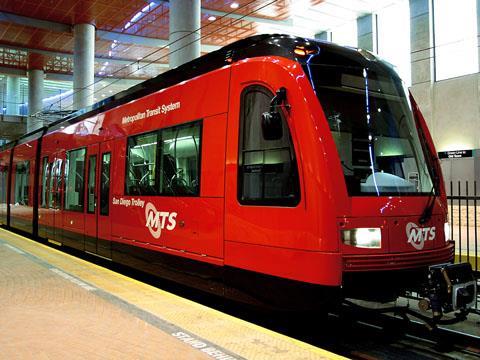 USA: A $600m, five-year renovation programme has begun to modernise the San Diego Trolley Blue Line between the city centre and San Ysidro. The project will be funded by federal and state grants and local sales tax revenue.
The improvements include replacing 18·5 km of rail as well as sleepers, track substructure, switches and 22 level crossings. New catenary and five power crossovers will be installed, station platforms will be raised by 200 mm to accept low-floor cars and structures replaced where necessary. Another 22 stops in the city centre will receive higher platforms.
Meanwhile, the alignment of the 17·7 km Trolley extension from Old Town to La Jolla was approved on July 23. The line, which includes eight stops, is due to open in 2015 as part of a €1·2bn project.
San Diego Trolley has also ordered 57 shorter S70 Avanto LRVs from Siemens, which will allow it to retire some of the initial fleet of 71 Siemens-Duewag U2s. The Argentinian province of Mendoza has already bought four U2s for $1·2m to work the provincial capital's 13 km light rail route, which is due to open in March 2011.
INIT has won a contract from the Trolley to supply software and passenger counting sensors for 65 LRVs, with an option for 14 more, to improve fleet management and service planning.