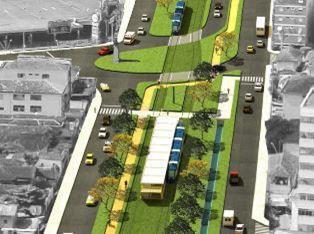 BRAZIL: The VLT RMBS consortium has signed a contract for signalling and communications systems for the future SIM light rail network in Santos. Thales will provide signalling equipment including fixed and mobile communication systems, data transmission and the electronic traffic monitoring system.
VLT RMBS comprises Construtora Ferreira Guedes, Trans Sistemas de Transportes, Adtranz Engenharia e Sistemas and Brascontrol Indústria e Comércio. It is building the network in two phases. The initial 11 km section will link Porto to Barreiros in São Vicente, and a second 4 km section will run from Conselheiro Nébias to Valongo. Once both sections are open by the end of 2014, SIM is expected to carry 70 000 passengers/day.
In November public transport operator EMTU selected the Tremvia Santos consortium of Trans Sistemas de Transportes and Vossloh España to supply 22 light rail vehicles under a contract expected to be worth up to R$284·3m. Deliveries are due to take place between May 2014 and April 2015.