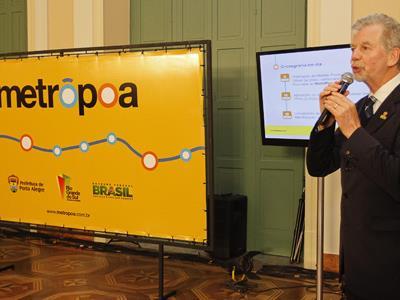 BRAZIL: Bidders have until November 12 to present their proposals for building a 14⋅8 km metro line in the city of Porto Alegre, following the launch of tendering on September 10.
The preferred submission for civil works, rolling stock, signalling and other aspects of system design would then form the basis of a PPP contract to build and operate the route, for which bids would be invited in the first quarter of 2013 for construction to start in the third quarter of that year.
Expected to cost R$2⋅4bn, MetrôPoa would run from Avenida Assis Brasil in the city centre to Avenida Borges de Medeiros in the north, serving a 'minimum' of 13 stations. To meet demand forecast at 310 000 passengers a day, a fleet of 25 four-car trains would be required, accommodating 270 passengers each.
The city authorities also stipulate that both trains and stations should be air-conditioned, and that electronic ticketing will be provided. The fares structure will be the same as the Porto Alegre bus network, with which the metro will be fully integrated.