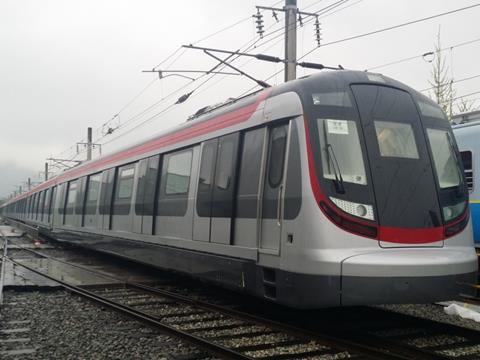 CHINA: Hong Kong MTR Corp's General Manager for the Shatin – Central Link project, T M Lee, has visited Hyundai Rotem's factory in South Korea to inspect the first of 37 trainsets for the North South Corridor of the SCL, which is due to be delivered in September.
The trains will feature LED interior lighting, 27 in LCD passenger information screens, dynamic route maps and 'improved' grab poles.
As the bodies will be slightly wider than those on existing East Rail Line trains, station platforms will have to be adjusted before the trains start dynamic testing. Work will start at University and Tai Wo in late July before moving to other stations. To make passengers aware of the larger gaps, LED lights will be installed and notices will be posted in stations. Additional station assistants will also be deployed. When complete, platform edge gates will be retrofitted.
The 17 km SCL will have 10 stations, including six interchanges. The North South Corridor is an extension of the East Rail Line from Hung Hom across Victoria Harbour to the Exhibition and Admiralty. It is expected to be completed in 2020, two years after the East West Corridor section.