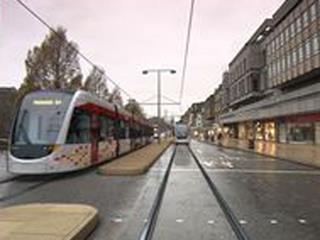 UK: The Scottish Government's Transport Scotland agency is to provide experienced project managers to fill senior roles in a new governance structure for the Edinburgh tram project, which has been mired in political and contractual disputes and cost overruns.
Transport Scotland announced on September 14 that Ministers 'will have the power to direct strategic project decisions', in return for reinstating government funding for the scheme which had been withdrawn in August.
Back in May 2008, Bilfinger Berger and Siemens had been awarded a £280m contract to build the 18·5 km Line 1 from the airport to Newhaven. Opening was scheduled for this year and the total cost was put at £545m, including 27 CAF trams. However £430m has since been spent with only 2?4 km of track laid. City of Edinburgh Council has dropped the St Andrew Square - Newhaven section of the line, and completion of the truncated 13·4 km route is now priced at £776m.
Having rejected plans to scrap the project completely by a single vote on June 30, on August 25 City of Edinburgh Council voted to further cut back the line to terminate 2 km from the city centre at Haymarket. However this would mean it would 'run at a permanent £4m annual loss' instead of being profitable, according to Council Leader Jenny Dawe, and the council would have been liable for £161m in cancellation charges. The Scottish Government then said if the line were to be cut back it would withhold £72m of its £500m contribution.
Under growing political pressure, the council voted on September 2 to continue the line to St Andrew Square, 5 h before the deadline for cancellation of the contract.
A new agreement with the contractors was also due to be finalised on September 14, with the earliest opening date now put at 'summer 2014'.