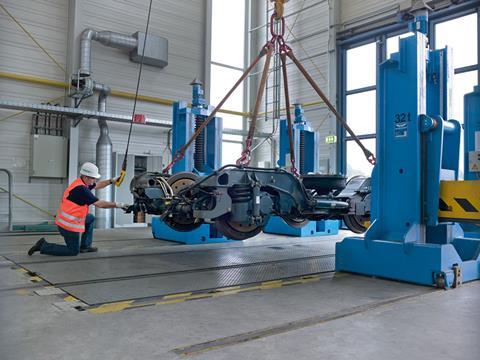 USA: This month Siemens will begin operations at a 5 600 m2 rail vehicle servicing, maintenance and repair plant it has established at the McClellan Park business development on the former McClellan Air Force Base in Sacramento, California.
The site will be Siemens Mobility's US customer services headquarters and West Coast logistics hub, housing its vehicle refurbishment and accident repair activities, a bogie service centre with Windhoff lifting equipment, spare parts services and administrative offices. It will have more than 30 staff, and will complement the company's manufacturing plant in Sacramento which employs more than 800 people and has recently been expanded.
The first projects to be undertaken at the new site include a US$21m modernisation of 32 Calgary Transit SD160 light rail vehicles and the refurbishment of 21 LRVs for Sacramento Regional Transit.
'We're thrilled to expand our already significant footprint in the Sacramento region with the opening of this new rail service facility', said Chris Maynard, head of Customer Service for Siemens Mobility. 'This expansion signals our dedication to servicing and modernising rail systems across North America while continuing to deliver industry-leading manufacturing expertise, ensuring that our customers can continue to make the most of their rail systems.'