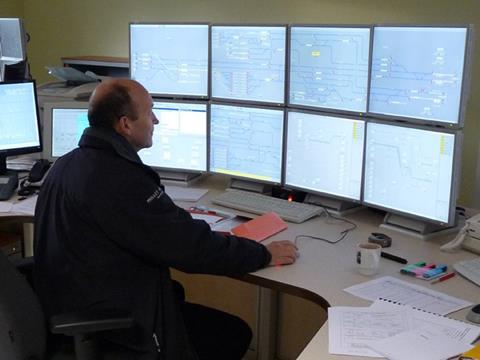 UK: Network Rail began formal staff consultations on July 20 for a 25-year strategy to eliminate around remaining 800 mechanical signalboxes and relay interlockings and concentrate control of the national network in 14 regional operating centres. This will form a key element in its proposed investment plans for 2014-19 (Control Period 5), which must be submitted to the Office of Rail Regulation in September.
Bringing forward resignalling ahead of the rate needed to replace obsolete equipment is expected to require an additional investment of £1·1bn, but with efficiency savings estimated at up to £250m a year NR says the investment would be recovered in 10 to 12 years. It believes that 80% of the network would be controlled from the new centres by 2029, with the remainder migrating by 2044.
Consolidation is expected to improve performance and response to disruption, boosting national punctuality by an estimated 2 percentage points. It would also provide more capacity through better regulation on key routes. Signalling staff would be cut by two-thirds to around 2 000, but this can be achieved by natural wastage; NR does not envisage any compulsory redundancies.
The new control areas would largely match NR's 10 devolved Route management teams, bringing operations staff and possibly some maintenance teams into integrated control centres, along with representatives from the major passenger and freight train operators, who have welcomed and endorsed the strategy. Eight of the centres already exist and plans for the other six are well advanced.
NR is in discussion with six signalling suppliers over the development of an automated traffic management system meeting 28 cross-industry 'business capabilities'. It hopes to shortlist three firms by the end of this year for prototype development, leading to selection of 'one or two' preferred suppliers by the end of 2012 or early 2013.
Shortlisted bidders for NR control system
Ansaldo STS
General Electric
Hitachi
Invensys Rail

Signalling Solutions Ltd
Thales
Read more about Network Rail's vision for advanced train control in the June issue of Railway Gazette International - available to subscribers in our digital archive.