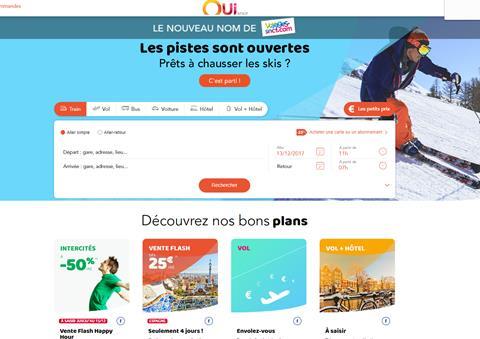 FRANCE: Described as 'a new shop window', the voyages-sncf.com website was rebranded as 'oui.sncf' on December 6.
The rebranding marks the third and final pillar in SNCF's revamp of its passenger operations, which has also seen its TGV business marketed under the premium Inoui brand and the low-cost offering Ouigo.
The revamp of its web distribution platform is intended to 'make full use of emerging digital opportunities' to achieve SNCF's aim of gaining 15 million more customers by 2020. Oui.sncf is intended to become the leading French e-tourism web platform by the end of the decade, offering a full range of the group's 'mobility options', including urban car sharing, taxi booking and bus services. While oui.sncf is targeting the domestic market, it will continue to support international booking on SNCF-affiliated services including Eurostar and Thalys.
Key innovations offered by oui.sncf include a more advanced customer relationship function, with a 'oui.bot' chat tool embedded directly within the homepage. SNCF also reports that oui.sncf will be the first French e-tourism outlet to provide telephone contact centre access 'on a 24/7 basis'.
The creation of oui.sncf has taken eight months and necessitated the creation or modification of 500 000 webpages, SNCF says.