EFW has been developing composite rail components based on its long-term lightweight manufacturing experience in aviation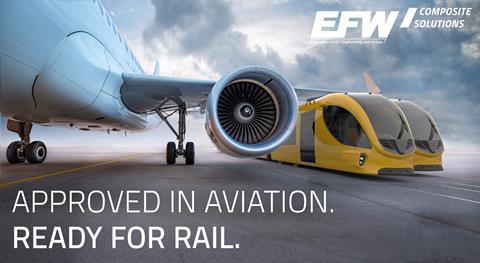 Approved in Aviation.
Aviation has long been considered a driver for lightweight materials and structures. In aircraft, composites are used primarily in floor structures, sidewall linings and ceiling panels as well as in cabin interiors but also in exterior applications, such as fuselage and wings. When using lightweight structures, the ratio of weight to cost savings plays a decisive role. EFW is first tier supplier of composite floor panels and linings as well as cabin interiors for the entire Airbus family and thus has 30 years of experience and know-how in the field of composite manufacturing.
Ready for Rail.
Ground transport focuses on completely different aspects than aviation: sound and heat insulation, high fire requirements and maximum demands on robustness and strength at low economic expenditures. Here, the use of lightweight components also offers decisive advantages. EFW's rail composite solutions are optimized for interiors and load-carrying structures, such as floor panels and complex floor systems as well as sidewall linings.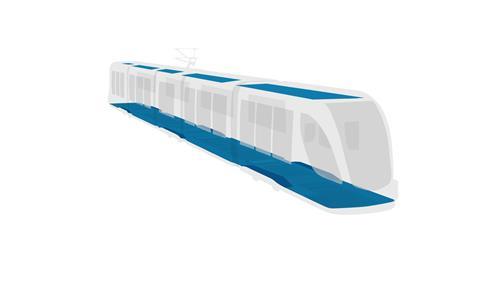 Why using lightweight components in rail transportation?
The main reason for using lightweight components in rail transport are weight restrictions imposed by the infrastructure in terms of maximum axle loads for bridges and other structures. In addition, the increasing number of passengers and the need to integrate comfort systems increase the necessity to reduce weight. In conventional rail transport, all interior components often made of plywood or aluminium are installed differentially in a metallic railcar body. Composite products like those from EFW, on the other hand, follow the approach of complete integration of function and structure. Thanks to their optimized and integrative properties, EFW's floor panels are able to support static loads and thus achieve weight and cost savings in the vehicle structure.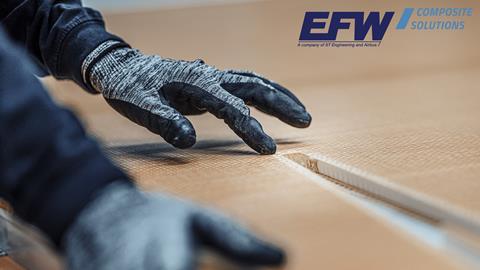 Flexible, Adaptable and Individual. Ready for Rail.
The adaptation of lightweight design principles, lightweight materials and processes from the aviation industry allow familiar and optimized solutions to be applied to the respective conditions and specifications and to be implemented cost-efficiently.
With ready-to-install, repair-friendly and easy-to-replace products, EFW meets the numerous requirements of the rail industry and integrates lightweight design into an economically driven market in a meaningful and efficient way. EFW already provides floor panels for trams all around the world. On two continents in six countries, EFW's lightweight floor panels are already installed in over 500 trams.
If you are interested in learning more about EFW's lightweight rail products, meet us at the international railway fair Trako from September 21 to 24, 2021, at the booth of the Saxony Economic Development Corporation.

Elbe Flugzeugwerke GmbH is an aerospace manufacturer based in Dresden, Germany. It was established during 1955 as VEB Flugzeugwerke Dresden.