State-of-the-art telematics and IoT technologies help to cope with seemingly unmanageable business issues in various industries.
GPS tracking systems allow you to control assets of almost any type: from tipper trucks and hay-baling machines to cargo containers and even light aircrafts. However, building a LoRa asset tracking solution for railway construction wagons takes some experience.
What issues does a telematics services provider have to solve to make rail transport tracking work seamlessly? The best way to answer this question is with a real project, like the one that won the international IoT project of the year in 2022. Swiss telematics provider Gothard Handels AG developed a LoRa asset tracking solution for managing construction wagons leased by Railrental, specializing in railway transportation.
Client requirements first
Successful projects start from outlining the results that the client needs to achieve their business objectives. To deliver these results, Gotthard Handels AG had to explore the specifics of Railrental's business first.
Railrental leases construction wagons but doesn't own them. The owners are other construction companies that aren't currently using them, meaning there are three parties in the leasing chain: construction wagon owners, renters, and Railrental itself. They all wanted to know the location of the wagons, and especially to be able to trace missing wagons, meaning three distinct parties needed permissioned real-time access to tracking data.
Then, there was a basic physical problem, one common to LoRa asset tracking projects — assets like these construction wagons don't have permanent electrical power to ensure the continuous operation of the tracking hardware. This imposed severe constraints on what that hardware could look like.
Let's take a look at what railway tracking solution Gotthard Handels AG developed to meet these challenges.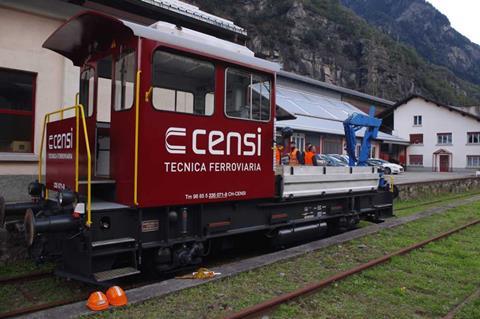 The project combining LPN LoRaWAN, the Wialon platform, and Comtac trackers
The solution provided by Gotthard Handels AG consists of several elements:
LoRaWAN trackers mounted on wagons;
Wialon GPS tracking and IoT platform;
LoRaWAN network to ensure connectivity.
First, the telematics service provider had to choose the most appropriate connectivity option for the project, to allow the LoRa asset tracking platform to receive data from the devices installed on the wagons. Gotthard Handels AG selected Swisscom's LPN LoRaWAN as it covers 97% of the population of Switzerland.
LoRa (from "long-range") is a physical proprietary radio communication technique based on spread spectrum modulation techniques.
LoRaWAN is a low-power communication protocol that takes advantage of the LoRa technique to transmit sensor data over long distances. That's why this network type is considered to be a good option for industrial deployment.
After defining the network, it was time to equip the wagons with tracking hardware. Gotthard Handels AG chose water-resistant Comtac LoRaWAN trackers. Already integrated with Swisscom's LPN and with a 4–5-year battery life, they addressed the power issue while ensuring frictionless operation.
The wagon location data from the trackers is transmitted to Wialon via Swisscom's LPN. Already serving over 3.5 million vehicles worldwide, the Wialon platform processes the location data and displays it to Railrental, its clients, and wagon owners. Intuitive dashboards and visualizations provide at-a-glance visibility into operations; real-time tracking of individual wagons means no assets go missing. All three parties can get information through reports and notifications as well as permissioned dashboard access. Browser-based and hardware-agnostic, Wialon's full functionality can be accessed via nearly any device in a couple of clicks or taps.
Better customer service, transparency, and no more lost wagons
Gotthard Handels AG was able to offer a LoRa asset tracking solution that met Railrental's requirements and addressed the hardware constraints imposed by separate wagons with no permanent electricity supply. It allowed the rental company to improve construction wagon management.
As a result, the client received an improvement in service quality for its customers, always being able to provide them with accurate wagon location data. In addition, the solution brought transparency to Railrental's business processes. Now, wagon owners, Railrental, and their customers can quickly find out where wagons are, and there is no need to forward questions to one another and no risk that a wagon will 'drop off' the network until someone physically finds it.
This project is a good example of how telematics and IoT technologies help businesses operating in various fields secure their assets, fine-tune customer service, and avoid unnecessary financial losses.