In an era where efficiency meets innovation, Trilogical's RailBlazer will dramatically transform the rail freight landscape.
This state-of-the-art solution, rooted in years of IoT experience, heralds a revolution in railcar telematics. With features prioritizing realtime monitoring, advanced maintenance, safety, and enhanced supply chain transparency, RailBlazer promises not just intelligence, but a seamless user experience. Whether it's precise railcar tracking, realtime railcar health updates, or fostering trust with proactive maintenance alerts, RailBlazer is the holistic answer to modern railway challenges. Embrace the future with RailBlazer – where technology drives efficiency, and profitability.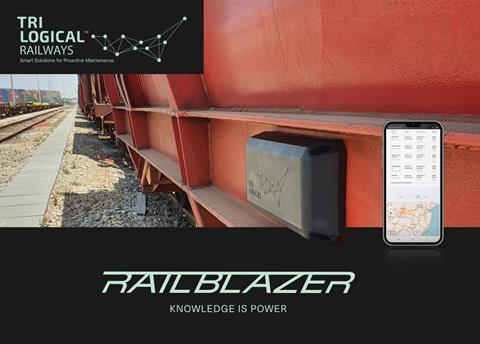 RailBlazer by Trilogical: Revolutionizing Rail Freight Management with Advanced Telematics
Distinguished by an unprecedented blend of proprietary technology, efficiency, and maintenance-free operation, RailBlazer emerges as Trilogical's groundbreaking IoT solution, reshaping the landscape of intelligent rail freight operations and yielding substantial returns on investment for railroads, fleet owners and shippers.
In the realm of rail freight, the escalating demand for dependable and competitively priced railway transportation underscores the need for heightened efficiency and optimized expenditures. Efficiency and profitability synergize by optimizing the utilization of existing assets prior to considering new investments.
The digital transformation of railroads represents a crucial stride toward unlocking untapped potential and capitalizing on opportunities for enhanced efficiency. The capability to analyze and decipher data for informative insights, coupled with the ability to provide asset management and cargo visibility, forms the foundation.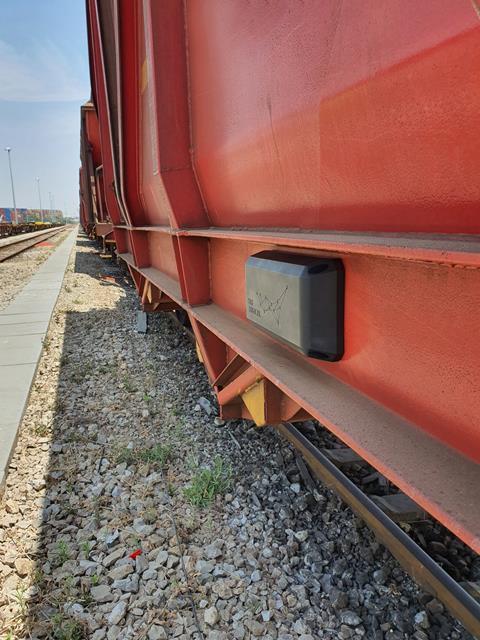 Trilogical's RailBlazer stands as the vanguard of engineered telematic solutions, directly addressing pivotal concerns at the heart of railroads. Drawing from extensive experience in IoT and remote condition monitoring across diverse industries and based on the outcomes of the first generation of Trilogical's railcar telematics, this innovative solution delivers intelligent data without unnecessary complexities, offering a notably straightforward implementation process.

High-level Benefits of RailBlazer
Enhancing Railcar Utilization with RailBlazer: With meticulous attention to optimizing railcar utilization, RailBlazer leverages advanced planning and predictive railcar allocation. By seamlessly integrating hybrid communication technologies, RailBlazer empowers tracking of railcar location, including precise positioning in the trainset and on specific tracks within bustling shunting yards. This realtime monitoring capability serves as the cornerstone of elevated efficiency and revenue generation. By extracting actionable insights from data-driven statistics, rail operators can adeptly synchronize railcar availability with demand, orchestrating smarter operations.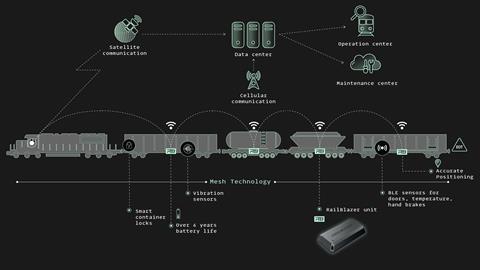 Achieving Advanced Maintenance Efficiency with RailBlazer: A central aspiration for railway operators is harnessing advanced IoT devices to monitor, track, and assess railcar health, thereby augmenting maintenance efficiency. RailBlazer's pioneering technology ingeniously transforms each railcar into an intelligent, digitally traceable entity. Within the domain of maintenance enhancement, RailBlazer streamlines maintenance through the integration of mileage and smart sensors' analysis. By astutely analyzing realtime data, railroads and fleet owners acquire the ability to strategically plan maintenance activities, culminating in heightened efficiency. Proactive response to maintenance requirements, based on accurate insights, significantly enhances responsiveness to health indicators, resulting in extended service intervals. Furthermore, the issuing of immediate alerts pertaining to deviations or potential issues, facilitates swift and precise intervention, proactively preventing downtime and minimizing operational disruptions.
By embracing the RailBlazer solution and capitalizing on its advanced maintenance features, railway operators can significantly curtail maintenance expenses, maximize railcar availability, and elevate the overall reliability of their operations.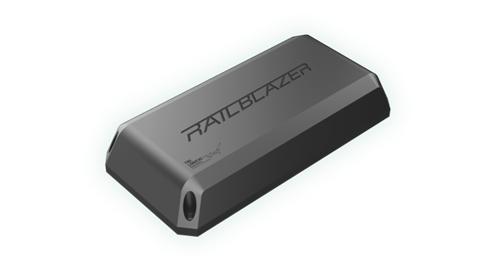 Safety: Safety constitutes a paramount priority for rail freight operations. RailBlazer operates in real time to detect and alert about railcar health anomalies, unsafe loading practices, and excessive impacts. Monitoring End-of-Train (EOT) events heightens safety standards, safeguarding both personnel and cargo.
Transparency and Enhanced Customer Satisfaction: RailBlazer leverages intelligent data analysis to enhance supply chain transparency. Providing customers with realtime loading status updates, estimated time of arrival (ETA) and cargo status data empowers shippers with the information they need. This fosters improved relationships with customers and opens new business opportunities.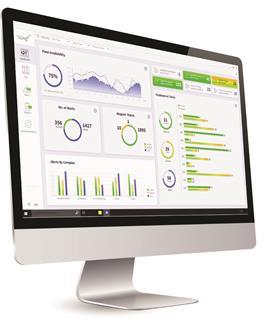 Unmatched Technology and Efficiency: RailBlazer transforms railcar telematics with its hybrid communication technology, ensuring seamless realtime data transmission and accurate tracking. Integrated with Trilogical's cloud-based platform, RailBlazer offers features like order management, railcar allocation, history, and mileage-based service alerts, boosting operational and maintenance efficiency.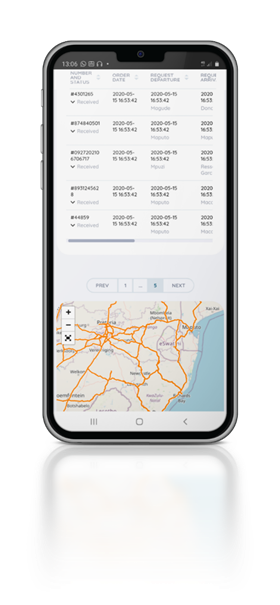 With a focus on precision, efficiency, and reliability, RailBlazer sets a new industry standard. Installation is a breeze, and the device's up to 6-year battery life ensures hassle-free performance.
Experience the future of rail freight with RailBlazer by Trilogical: https://www.trilogical.com/railblazer/
Contact Tatiana Voloshin, our International Business Development Director, for more information or a product demonstration via email tatianav@trilogical.com or LinkedIn: https://www.linkedin.com/in/tatiana-voloshin/
Schedule A Demonstration: https://www.trilogical.com/schedule-a-demo/
If you are attending the upcoming Railway Interchange 2023 event, we invite you to attend our showcase at the Innovation Theatre within the RSSI Exhibit Hall D on Monday, October 2, at 3:30 pm. Visit our booth - RSSI Hall E, Booth 1308