The HÜBNER Group has company sites all over the world. In an interview, Kai Mentel, Senior Vice President Mobility Rail, explains the advantages for the company's supply security and carbon footprint.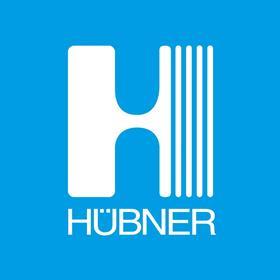 Mr. Mentel, as an established System supplier for rail vehicles, the HÜBNER Group is a reliable partner of the rail industry. How do you ensure that clients receive the ordered products in these challenging times?
Kai Mentel: As a company we have more than 30 sites across 17 countries. This allows us to produce very targeted and mostly on site for our customers. The advantage: The risk of our products having to travel long sea routes is minimised. In addition, we manufacture the most important materials such as rubber, silicone, and textiles for our products ourselves. This also increases our supply security and reduces our dependence on third parties. Through this integrated value and supply chain, we create entrepreneurial stability – both for our customers and for us as a company.
Many of the HÜBNER Group's products are used in rail vehicles. This way, the HÜBNER Group supports sustainable transport solutions. Will the company also succeed in implementing sustainable production?
Yes, this is an important topic for us, and we are continuously optimising our processes in order to manufacture our products in a climate-friendly way. A recent example is our new Competence Center Silicone in Ortrand (Germany), where we have implemented a new and more climate-friendly manufacturing process. This allows us to directly reduce emissions. Moreover, we are building Europe's most modern rubber compounding plant in Nyíregyháza (Hungary). Here, too, we are significantly reducing emissions thanks to a new filter technology. We also offer efficient life-cycle services and maintenance concepts that are digitally supported by our HUBLink system. This is another way in which we contribute to more sustainability.
What influence does the HÜBNER Group's global presence have on the company's carbon footprint?
It is a vital factor. Our goal is not only to produce, but also to transport the products to our customers and their point of use in the most climate-friendly way possible. Our advantage: Due to our global presence, we can produce locally in almost all markets and support our customers in a climate-friendly way due to short delivery routes. This way, we can effectively reduce emissions. An example is the expansion of our plant in Bangalore (India), which will enable us to supply projects in India and Asia-Pacific even more efficiently. At the same time, our headquarters in Kassel (Germany) remain an important production site for projects in Europe. We are convinced that short delivery routes are essential for supply security and the carbon footprint.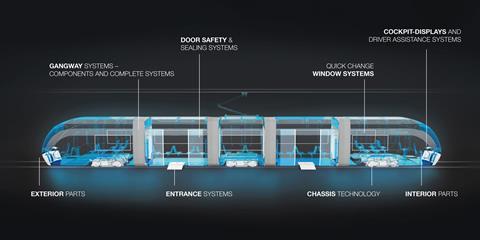 Can you give a brief preview of what customers and visitors can expect from the HÜBNER Group at the InnoTrans?
In the rail vehicle market, we are represented with a very large number of products, systems and applications. One of our highlights is a new articulation system for trams – called FX1000pro – with a high durability and low life-cycle costs. We will also present new displays and driver assistance systems as well as our materials expertise in fire and sound protection. But of course, we will also inform about our gangway systems. As you can see: We have a broad product portfolio. But that is what sets us apart. We understand the train as a complete system. In addition, we are also looking at new vehicle concepts that combine the advantages of rail and bus vehicles. At InnoTrans, we will be presenting a world innovation for a steering system for high-capacity buses.
Further information: http://www.hubner-group.com/innotrans