Simplify engineering AG, based in Switzerland, is a specialist when it comes to overcoming height differences in rail vehicles. The product portfolio ranges from boarding systems for wheelchair users to trolley elevators in double-decker vehicles.
'The requirements of our customers are diverse' says Patrick Gutknecht, Managing Director of simplify engineering AG. 'We are able to adapt our broad product platform to the specific wishes of our partners and guarantee an optimal solution for the end user. Special solutions are also no problem for us.'
Lift systems for different situations are in the program:
Wheelchair boarding lift BW10
Wheelchair boarding lift BW50
Wheelchair stairlift for rail vehicles PW10
Wheelchair lift for double-decker vehicles DW10
Goods elevator for train loading BG10
Goods elevator (trolley elevator) for double deck vehicles DG10
Goods elevator (bistro elevator) for double-deck vehicles DG20
The systems comply with the specific railroad and lift standards and are specified together with the customers and adapted to the respective conditions.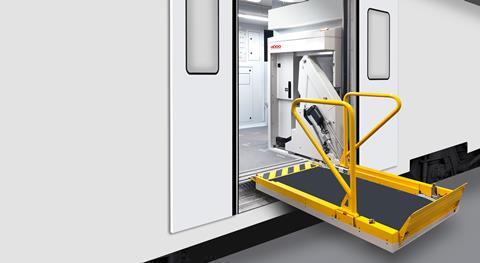 The PRM lift for wheelchair users (BW50) enables comfortable boarding and alighting at platforms with different platform heights. The boarding lift is fully automatic. It is ready for use at the push of a button and can also be returned in the same way to its parking position, in which the door opening area is not affected. With a payload of 350kg, it is also capable of transporting heavy electric wheelchairs.

The electric version of the boarding lift is the (BW10 / BG10). Overcoming the different entry heights is easy and comfortable with this PRM lift. The lift is installed in the rail vehicle and is therefore always ready for use. With a payload of 500kg it is able to transport heavy electric wheelchairs and goods. A special feature of the lift is the manual swivel function. With a few hand movements, the lift is ready for use and can also be returned to its parking position, in which the door opening area is not affected.

To allow wheelchair users freedom of movement despite stairs inside the vehicle, the (PW10) was developed. The stairlift is optimally stowed in its parking position and is only unfolded to the size of the platform of 800X1200mm before use. The payload is also 350kg.

Double-deck vehicles require the transport of people or material over one floor. The lift systems (DW10 / DG10 / DG20) were developed for this purpose. Depending on size and design for wheelchair users, service trolleys or bistro boxes. The extremely compact design allows space-saving, flexible installation in the vehicle.
Contact:
simplify engineering AG
Patrick Gutknecht
Austrasse 25
CH-9630 Wattwil
Phone +41 71 987 73 50
www.simplify-ag.ch