As part of its Vision 2030 national development plan, Saudi Arabia is investing heavily in both its main line and urban rail networks. The Railway Forum in Riyadh on January 28-29 will give industry leaders from around the world a chance to understand first-hand the opportunities on offer.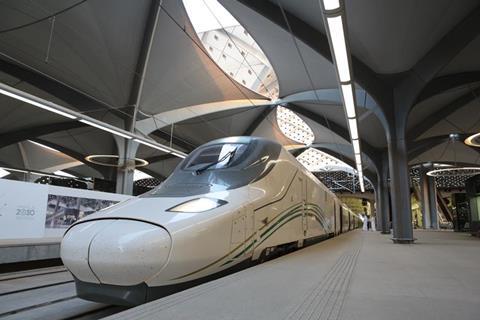 Saudi Arabia joined the global high speed rail club in September 2018, when the 450 km Haramain high speed line between Makkah, Jeddah and Madinah was formally inaugurated by the Custodian of the Two Holy Mosques, King Salman bin Abdulaziz Al Saud.
The 453 km line with five stations has been developed in line with the country's 2030 national plan. Designed for a maximum speed of 320 km/h, it is intended to carry up to 60 million passengers/year to and from the holy cities.
Civil works were undertaken by Chinese and Saudi Arabian contractors, with railway systems supplied by the Spanish-led Al-Shoula Consortium under a €6·7bn concession. This included the supply of 36 Talgo 350 trainsets as well as track and electrification; operations are being managed by RENFE and ADIF for the first 12 years.
Initially operating a preview service at reduced speed as engineers sought to bed the railway into the challenging desert conditions, the Haramain HSR has gradually ramped up over the intervening months since the ceremonial opening. Running at a maximum speed of 300 km/h, the journey time between the two cities is around 2 h 45 min.
On December 11 last year, high speed services to and from Jeddah airport were launched, thereby largely completing the Haramain programme. A six-track station serving Terminal 1 at King Abdulaziz International Airport is linked to the core Makkah – Madinah route by a 6·6 km branch. This includes a 4 km tunnel and is laid with slab track; flying junctions in both directions allow direct services to and from both Makkah and Madinah.
National network grows
While the high speed link between the holy sites is a high profile emblem of the Kingdom's rail investment programme, Saudi Arabia is also spending heavily to improve its legacy rail network, with enhancing freight flows a key priority.
The Kingdom's 1 400 km legacy network which links Riyadh and Dammam. A double-track route runs from the Gulf coast port at Dammam to Al Hufuf, from where two parallel single lines lead towards Riyadh. One is operated as a passenger line, with the other mainly carrying freight traffic to and from the Riyadh Dry Port.
Under the government's Vision 2030 national development plan, a series of additions to the network are planned. Among the most significant is the Saudi Landbridge. This comprises a 950 km double-track mixed traffic line running from the Port of Jeddah to Riyadh, where it would connect with the existing railway which would be upgraded to complete a 1 300 km corridor linking the Red Sea with the Gulf.
Elsewhere, Saudi Railway Company has a concession to develop and operate the 2 750 km North South Railway connecting Riyadh with Al Haditha on the Jordanian border and Jubail on the Gulf coast. This was originally promoted as a mineral railway, but it has subsequently developed into a mixed traffic network serving the northern part of the country, with the long-term intention of developing an international connection with Jordan. Passenger services began in February 2017.
The government also has a number of other rail expansion schemes in hand, including lines along the Red Sea coast in the southwest. Saudi Arabia is also an active participant in the Gulf Co-operation Council's plan to develop a rail network along the Gulf coast, with connections to Kuwait, Bahrain and the UAE.
Developing metros
Urban rail investment is also gathering pace across the Kingdom, complementing the 18 km Al Mashaaer-Al Muqadassah metro near Makkah which opened in 2010. This is used primarily to transport pilgrims between holy sites during the annual Hajj festival.
Two years later, a fully-automatic light metro opened to serve the women-only Princess Nora Bint Abdul Rahman University near Riyadh. But these were mere tasters in comparison to the ambitious six-line Riyadh metro network. Test running is already underway on several sections of what will be a 176 km driverless network with 85 stations. The first sections are expected to open later this year, with a full launch expected before the end of 2021.
Urban rail projects are also being developed in Jeddah and Makkah.
Websites
We are not responsible for the content of external sites