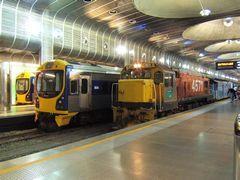 NEW ZEALAND: Sensor-triggered sprays which cover stabled rolling stock in a fine mist to prevent aerosol paint from adhering have been developed by Auckland-based Graffiti Security Systems.
The prototype Stormrail system has been installed at KiwiRail's Palmerston North stabling area.
Trains are a popular target for vandals, according to KiwiRail Commercial Manager Neil Buchanan, causing considerable cost and inconvenience. 'Protective coatings and misting systems are relatively expensive but they have emerged as the most effective graffiti control measures.'
KiwiRail is treating the Palmerston North deployment of Stormrail as a prototype, and may then use the system in other areas. There has been interest from the Greater Wellington Regional Council, Auckland Transport and rail authorities in Australia.