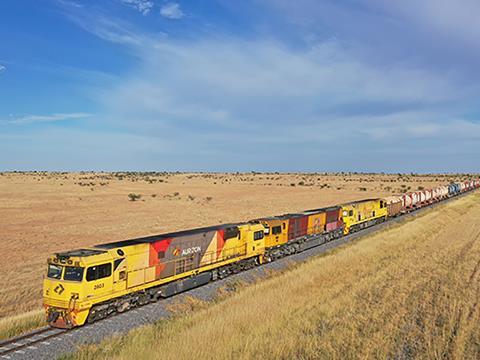 AUSTRALIA: Batteries or a combination of batteries and hydrogen fuel cells could feasibly replace diesel traction on rail freight corridors across Australia, according to a study undertaken by the University of Queensland and operator Aurizon.
Researchers analysised real-world data to assess the energy required to transport full loads between mines and ports, and looked at the potential to recapture and store energy when a train is travelling downhill or slowing.
For shorter, low-energy routes with energy requirements below 17 MWh, the research suggested that a battery loco would be the most viable option, possibly in combination with a battery tender. One such route would be the 200 km coal haul from Moura to Gladstone in central Queensland.
A combination of battery locos and hydrogen fuel cell tenders would be more suitable for routes with higher energy requirements, such as the 1 000 km Townsville – Mt Isa line.
Energy storage
The study found there was significant potential to use regenerative braking, with operational data suggesting an energy saving of 21% to 55%, depending on the line profile and load cycle; the overall average would be around of 32%.
This energy could be captured and reused with relatively small batteries in the range of 0·4 MWh to 1·6 MWh, without the need to install fixed charging infrastructure.
Lithium iron phosphate batteries were found to be the most suitable technology currently available, offering a lower cost and higher cycling stability than alternative battery types.
The study considered that overhead electrification would not be cost effective for much of Australia, given the large capital expenditures that would be required to equip remote long-distance routes.
'Huge opportunities'
'Decarbonising railways will play a major part in Australia's transition to renewables', explained Dr Ruth Knibbe of the university's School of Mechanical & Mining Engineering, adding that heavy duty batteries presented 'huge opportunities' in terms of capturing braking energy.
In practical terms, she warned, 'the batteries on board weigh around 42 tonnes and need to be kept at safe temperatures and prevented from degrading prematurely'. However, 'with projections of decreased battery and fuel cell costs over the coming years, the economic case for decarbonised heavy haul rail looks even better'.