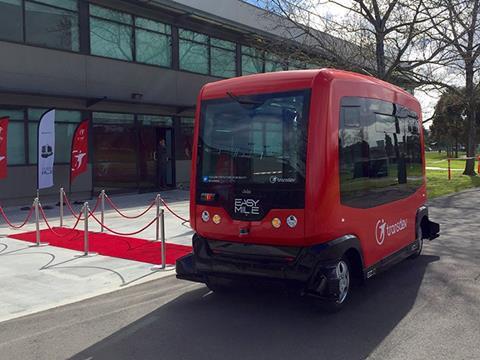 FRANCE: Transdev and Delphi Automotive announced on June 7 that they are to test an automated mobility-on-demand service at two sites in France.
One pilot will take place on a fixed route between the Saclay campus in southwest Paris and an RER station. The other would serve Rouen.
Passengers would be able to book a journey through an app or computer interface and buy a ticket at a stop before boarding a driverless electric vehicle. The fleet would be managed from a remote command control centre, with dispatchers responding to passenger requests.
Transdev and Delphi are to develop a the infrastructure necessary to manage a fleet of driverless vehicles. These are to be fitted with Delphi's Centralised Sensing, Planning & Localisation automated driving platform, as well as its Ottomatika vehicle control software. To enable autonomous driving, the vehicles will have radar and lidar sensors, as well cameras. Control Tec, Movimento and Mobileye are also supplying components. Transdev is to provide its Universal Routing Engine and remote control command software.
'Our ambition is to offer the best PACE mobility solutions to our clients: personalised, autonomous, connected and electric', said Transdev Chief Performance Officer Yann Leriche. 'Combining the strengths of our two companies will enable us to introduce innovative driverless services in our current and future operations, confirming the position of Transdev as a pioneer in integrating autonomous transport systems into global mobility networks.'