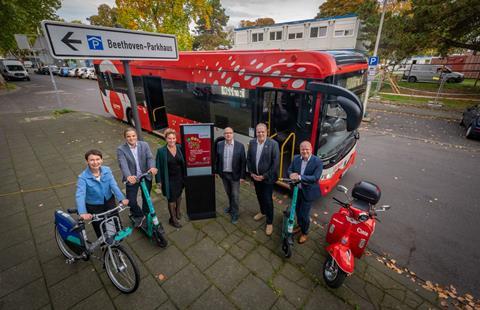 GERMANY: The BONNmobil app has been launched to provide a centralised way to book and pay for all modes of public transport in Bonn, including train, bus, rental bikes and e-scooters.
'Thanks to our technology, passengers can use all connected mobility services with just one registration and one app', said Mike Ax, Managing Director of supplier Scheidt & Bachmann.
Commenting on the development process, Stadtwerke Bonn's Project Manager Georg Bechthold said 'most people would not believe how much work it takes in terms of legal and data protection law to combine different mobility providers and payment options in an app in a customer-friendly way'.
The city's head of transport Helmut Wiesner said 'to strengthen the environmental system, we need not only vehicles, but also digital solutions. The easier the system, the more likely Bonn residents are to choose our public transport services.'
Managing Director of SWB Bus & Bahn Anja Wenmakers said 'BONNmobil bundles different mobility solutions in one app. This is what customers want today and it will become the standard in the coming years.'