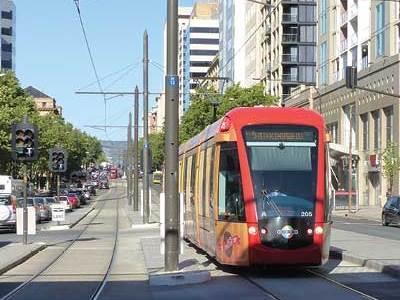 AUSTRALIA: Conduent Transportation has deployed a contactless open payment system for the Adelaide tram network, enabling passengers to use Visa, MasterCard and NFC-enabled smart devices to pay their fares.
It uses Conduent's Atlas platform, which was already used by the South Australian Public Transport Authority, with the Atlas Open Media Pay As You Go module and validators installed on the trams for onboard payment.
Contactless payment will operate alongside the existing Metrocard validating system for a six-month trial period.
'Enabling contactless payment on trams is the first phase of modernising fare collection across the Adelaide Metro network', said Anne Alford, Executive Director at SAPTA, which manages the city's urban transport network under the Adelaide Metro brand. 'By leveraging this technology, Adelaide will have easier, faster, safer and more accessible public transport. Implementation of the pilot was seamless with Adelaide Metro able to utilise its existing partnership with Conduent Transportation to employ its expertise and technology.'
Conduent's Atlas fare collection systems are now in use on more than 400 public transport networks, with deployment currently underway in New Jersey and Lyon.