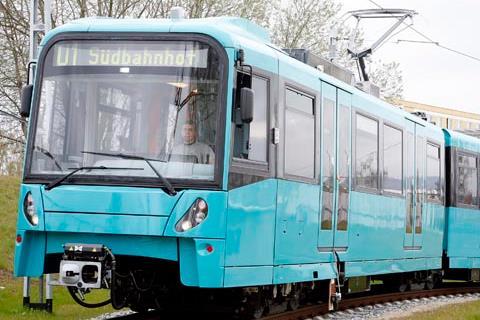 GERMANY: Frankfurt-am-Main public transport operator VGF has called tenders for a CBTC signalling and train protection system for use across its U-Bahn and tram networks.
Issuing a European-wide tender on February 1, VGF said its Digital Train Control System Frankfurt would replace its ageing conventional train protection system on all nine underground lines by 2030. Installation is expected to start on the so-called 'B route' carrying lines U4 and U5, including the U5 extension to the Europaviertel which is currently expected to open in 2025.
Under plans developed over the past 2½ years, the radio-based DTC is expected to provide bidirectional data communication between trains and infrastructure, transmitting movement authorities to the vehicles and receiving real-time positioning information. The system will allow moving-block operation, reducing headways and enabling VGF to operate more intensive services.
The operator estimates that switching to CBTC with variable train spacing based on braking distances could increase capacity by up to 25% on the busy A route used by lines U1, U2, U3 and U8, avoiding the need to build additional tracks and tunnels. Elimination of the fixed lineside signalling and ATP balises is also expected to reduce maintenance costs.
VGF anticipates that having continuously-updated movement authorities will allow more energy-efficient driving, offering savings of up to 15%. Gentler acceleration and braking would improve passenger comfort while reducing wear on the vehicles and rails.
Increasing the capacity and attractiveness of the urban rail network is intended to drive modal shift from cars, increasing the market share of rail-based public transport. This would 'directly contribute to a reduction in pollutant emissions, and ensure cleaner air in the city'.