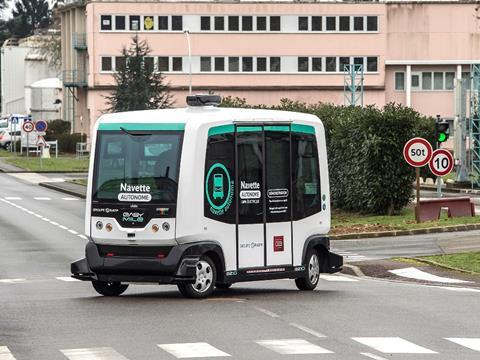 FRANCE: A six-week trial of driverless shuttles running in mixed traffic started at the CEA Paris-Saclay research campus on February 13, and will run until March 30.
Two EasyMile electric shuttles are working a 2·6 km loop with seven stops every 15 min between 10.00 and 16.00. Each shuttle can take 12 passengers, including six seated, and there is an onboard assistant.
RATP Dev is operating the vehicles, and travel is free. They are available to the estimated 6 000 people that use the facility daily, including employees of the CEA and partner organisations, support staff, students and visitors.
The experiment is part of the SESNA R&D project. This is financed by BPI France and Paris regional authorities, and includes RATP Dev, CEA, Bureau Veritas, Sherpa Engineering, BMCP and EasyMile. It is RATP's fifth driverless shuttle experiment, including a trial in the Vincennes area of Paris that started in November and is still underway.