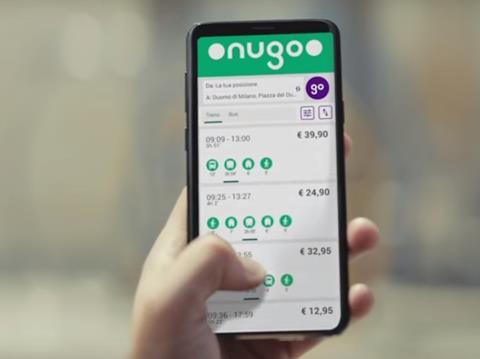 ITALY: State railway FS Italiane launched a nationwide multimodal transport planning app on June 22.
Nugo is available for Apple and Android devices. It enables users to plan a door-to-door journey throughout the country and buy one ticket to cover all the required modes. Initially 50 transport companies are included, but the target is to have 400. These include local and inter-urban public transport, ferries, bicycle- and car-sharing, and taxis. Users can also use the app to reserve parking spaces at railway stations.
The app was developed at a cost of €20m. According to Managing Director Gianluigi Castelli, its objective is to make travel more comfortable and easier, and to improve the travel experience. 'We would like to prove that clients can get conveniently from door to door if they leave the private car at home', he said.
'To facilitate rail travel between Italian cities it is necessary to improve last mile transport', said FS Italiane CEO Renato Mazzoncini. 'The app includes competitors such as open access high speed operator Italo and buses. To be attractive for car owners, it is key to offer several options.'
FS announced its aim to become a 'European mobility group' in November when it signed a co-operation agreement with investment bank CDP to develop urban rail networks. In June 2017 it finalised the acquisition of a stake in Milano metro Line 5 concessionaire Metro 5 SpA, and in March 2018 it signed an agreement with Brescia Mobilità for the construction of two tram lines in Brescia.