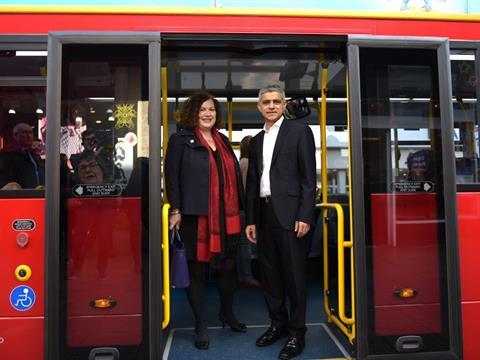 UK: The first of 12 low-emission bus zones planned for London's most polluted streets started operating on March 9. The zone in the southwestern district of Putney will only permit buses achieving strict Euro-6 emissions standards to operate across the seven routes that pass through it.
This will see 145 buses using the zone retrofitted with emissions-reduction technology or replaced with newer, cleaner vehicles. Putney High Street exceeded hourly legal levels of nitrogen dioxide on 1 248 occasions in 2016; EU rules specify that the limit should not be exceeded more than 18 times in a year.
The second low-emission bus zone will start operating in October between Brixton and Streatham, with the remainder to be phased in by 2020.
The Mayor's office said the low-emission bus zones represent the most extensive network of clean buses of any major world city. They form part of Mayor Sadiq Khan's wider strategy to reduce emissions from the city's bus fleet, including the phasing out of diesel-only buses and the purchasing of only hybrid or zero-emission double-deckers from 2018.
'I have asked Transport for London to remove the oldest, dirtiest buses from our streets', said Khan, adding 'I now need other cities around the world to work with me to demand cleaner bus technology so we can phase out diesel buses altogether.'
An 80% reduction of bus emissions across the 12 zones is expected. The clean bus zones will sit outside the Ultra Low Emission Zone, which is due to start in central London as early as 2019 and require all heavy vehicles to achieve Euro-6 standards.