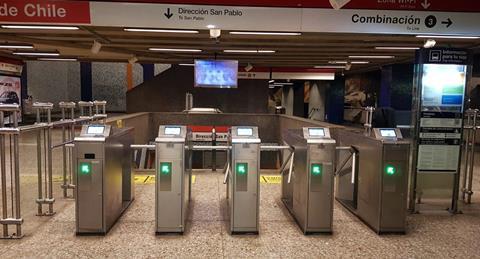 CHILE: Passengers using the Santiago metro and EFE suburban trains are now able to pay for their travel using mobile devices, following an upgrade to the fare collection system.
Spanish IT specialist Indra has renewed 1 120 ticket gates at stations on the seven metro lines and the Alameda – Nos Metrotren suburban route, installing an validator based on its Mova Collect range. This is able to take payments using bank cards, QR codes and mobile devices, as well as reading contactless smart cards. The validators can also be used to recharge smart cards.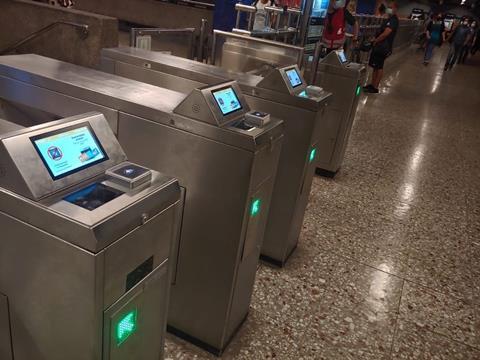 By facilitating cashless payment, the upgraded fare collection system will be able to cater for people making occasional journeys without a smart card. It will also provide for fare integration and the provision of discounts and capping.
In addition to the turnstile validators, Indra has developed stand-alone ticket validators, similar to those installed on the city's bus network. Metro de Santiago will be able to mount these on pedestals near the gate line at selected stations, offering an additional means of validation to boost passenger throughput in the event of very high ridership peaks.
The project included the design and development of all validator hardware and software, the renovation of back-office systems and station hubs, and the installation and commissioning of the 1 120 validators, as well as warranty support.
Indra's multi-purpose validator has been designed to interface with a variety of gate types, using the same control and interface electronics. This will provide for standardisation across the existing network and future lines now under construction or planned. It includes a 7 inch TFT screen and a speaker which can be used to provide information to passengers.
Designed to meet the specifications set by Chile's Ministry of Transport & Telecommunications, the new equipment is compatible with all services offered by the Metropolitan Mobility Network, formerly branded as Transantiago. The capital's integrated public transport network includes both city and suburban buses, and operates the clearing house for the settlement of transactional records sent from the validators.