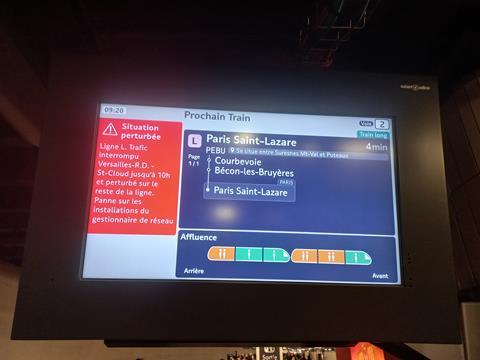 FRANCE: Paris suburban operator SNCF Transilien and transport authority Ile-de-France Mobilités have launched a real-time train occupancy information system on routes H, J, K, L, N, P, R and E, which use Francilien and Regio 2N EMUs equipped with suitable data systems.
Infrared sensors at every train door are used to count passengers, with the occupancy information then shown at each station.
Estimates are given for the loading at the front, middle and the rear of each train. Green signifies that seats are available, orange shows most seats are taken and red that there is standing room only. This encourages passengers to move along the platform to board the least busy parts of the train, improving the travel experience and making station dwell times more consistent.
Deployment across the rest of the SNCF Transilien network is planned ahead of 2024 Olympic Games.