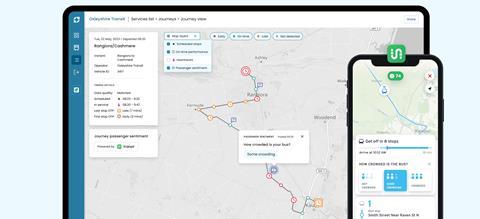 INTERNATIONAL: Snapper Services has integrated real-time passenger feedback from the Transit app into its Mosaiq Insights platform, which combines data from various tools into dashboards to help operators inform their decision-making.
Transit's Rate-My-Ride feature allows operators to ask passengers questions about their journey, enabling people to share feedback on aspects such as stop safety and vehicle cleanliness.
This feedback can now be viewed within Mosaiq Insights, matched with the journey's network performance data.
'Snapper's objective performance data combined with Transit's actionable passenger insights from Rate-My-Ride is a unique offering for authorities that understand that satisfying riders is about more than just on-time performance', said David Block-Schachter, Chief Business Officer at Transit, on November 9.
'By allowing agencies to quickly identify and fix key pain points for riders this integration is a further step toward our vision of a world where you don't need a car to get to live your life.'