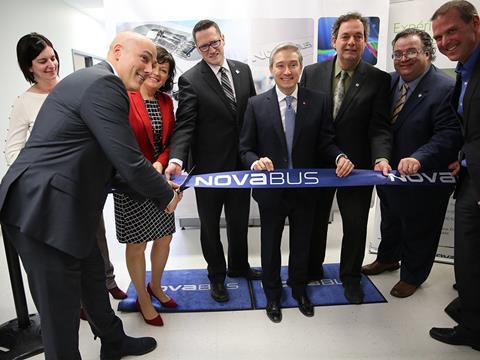 CANADA: Volvo Group company Nova Bus has officially opened a development centre close to its factory at Saint-Eustache in Québec, where it will undertake R&D to support the increased use of electric power for sustainable bus operation.
'Technologies and processes evolve at a very high rate', said Nova Bus Vice-President & General Manager Martin Larose at the inauguration ceremony on March 4. 'With this new development centre, we intend to be at the forefront and to offer sustainable transit solutions that meet the needs of smart connected cities.'
The centre covers 2 050 m2 over three floors and has 150 staff.
'These new offices will be a place of excellence in research and innovation, which will foster the continued advancement and development of Nova Bus vehicles', said Louis Côté, Senior Director, New Product Development & Business Transformation.