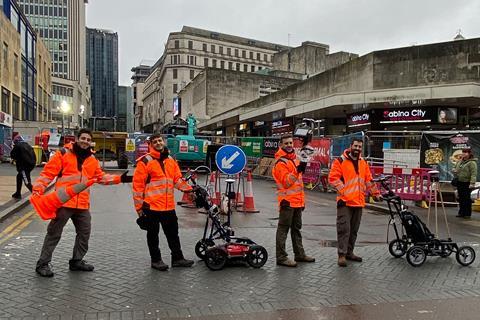 UK: Non-intrusive subsurface mapping technology company Exodigo has entered the UK market by working with Colas Rail on the West Midlands Metro extension programme.
Colas Rail used Exodigo's technology to scan for unmapped utilities on the route of the light rail extension to Birmingham's future Curzon Street HS2 station.
Colas Rail was able to detect over 280 below ground utility lines, including 51 that no other locator or records had detected, providing data to help reduce redesigns and delays.
'Excavating around buried services is one of our biggest risks, and the plans provided by statutory undertakers are in large part inaccurate', said Colas Rail Project Manager Hamish Falconer. 'Exodigo's surveys provide us with much more reliable data that can then be used to select safer excavation techniques around known services.'
Exodigo has opened a London office headed by UK Director Trevor Moore, who said the company's technology 'has the potential to mitigate many of the risks associated with large infrastructure projects by providing comprehensive information about what lies beneath the surface'.