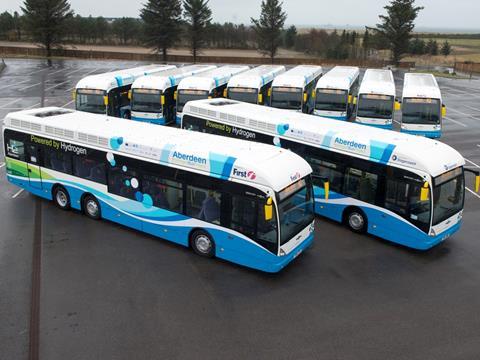 EUROPE: Two research projects worth €125m and aimed at bringing down costs of hydrogen fuel cell buses were officially launched on January 25.
The Joint Initiative Hydrogen Vehicles Across Europe (JIVE) project will double the number of fuel cell buses operating in Europe by deploying 144 vehicles in 10 regions across five countries. The six-year project will address the high costs of fuel cell buses relative to conventional buses, availability levels and the development of reliable and low-cost infrastructure that has capacity to refuel fleets of more than 20 buses.
Regions and cities taking part are London, Birmingham, Dundee and Aberdeen in the UK; Köln, Wuppertal and Rhein-Main in Germany; Alto Adige in Italy; Riga in Latvia; and Slagelse in Denmark. Three geographical clusters would allow joint procurement for large bus orders.
Co-ordinated by the Element Energy consultancy, the JIVE project includes a range of industry and research partners: EE Energy Engineers, Energy Universe Europe, Fondazione Bruno Kessler, HyCologne – Wasserstoff Region Rheinland, hySOLUTIONS and RebelGroup. Thinkstep and PLANET will be responsible for monitoring the performance of the buses to compare it with other traction technologies. Communication and dissemination of the results will be undertaken by Hydrogen Europe and UITP.
Local government and transport authorities taking part are: Aberdeen City Council, Dundee City Council, Birmingham City Council, West Midlands Travel, London Bus Services, Regionalverkehr Köln, Verkehrs-Verbund Mainz-Wiesbaden, WSW mobil, Südtiroler Transport Strukturen, Trentino Trasporti and Rigas Satiksme.
JIVE is supported by a €32m grant from the Fuel Cells & Hydrogen Joint Undertaking, which aims to accelerate the commercialisation of fuel cells and hydrogen technologies. The JU includes the European Commission, Hydrogen Europe, which represents the fuel cell and hydrogen industries, and N.ERGHY, which represents the research community.
The Models for Economic Hydrogen Refuelling Infrastructure (MEHRLIN) project will run until December 2020 and aims to demonstrate a demand-led commercial model for the deployment of hydrogen refuelling stations.
Supported by a €5·5m grant from the European Commission's Connecting Europe Facility, MEHRLIN will build seven large hydrogen refuelling stations on Europe's TEN-T core network corridors and test their performance.
Stations will be built in Hürth, Wermelskirchen and Wuppertal in Germany; London and Birmingham in the UK; Brunico in Italy; and Oude Tonge – South Rotterdam in the Netherlands. Each station will primarily serve bus fleets deployed through the JIVE project (with Oude Tonge serving those in the 3Emotion project), but will also work to identify additional demand for hydrogen and potential new users, not only in the bus sector.
MEHRLIN is also co-ordinated by Element Energy. It includes AWG Wuppertal, Institute for Innovative Technologies Bozen Consortium, ITM Power, London Bus Services, Regionalverkehr Köln, Stadtwerke Bruneck – Azienda Pubbliservizi Brunico, Stadtwerke Hürth and Stedin Diensten.