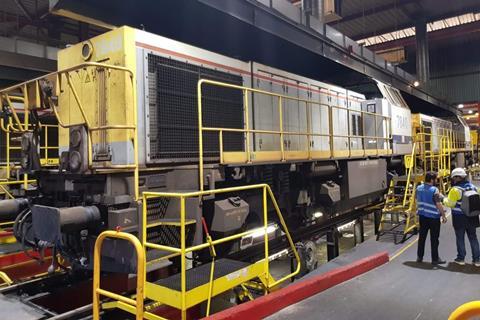 BELGIUM: The Signalling Company has started continuous round-the-clock testing of its ETCS Onboard software, using 'a well-known Silicon Valley best practice' from the software industry known as continuous integration.
TSC is a joint venture of ERTMS Solutions and freight operator Lineas, and it is developing ETCS Onboard equipment for the operator's fleet of Class 77 diesel locomotives which it hopes to market to other fleet owners. It has now teamed up with the Try & Cert collaboration of Laboratoire ERTMS France and notified bodies Certifer and Belgorail, which is the first accredited laboratory to support 'software in the loop' testing using the ERTMS interoperability test sequences specified in Subset 076.
Use of a cloud-based testing approach avoids the need to send ETCS onboard hardware to a dedicated laboratory. TSC anticipates that continuous integration with 24/7 testing 365 days a year would enable it to detect interoperability issues earlier and to speed up the baseline upgrade process which in traditional settings can take months and involve a large team of engineers.
The continuous integration testing of the TSC ETCS Onboard is expected to run until 2022, and will be followed by certification tests in 2022-23 using the company's ETCS Onboard hardware.
As part of its business model, TSC plans to offer a fixed price for future baseline changes, so that railway undertakings will know in advance how much it will cost to keep their systems up to date. Key to this approach is the use of the ERTMS FormalSpecs domain-specific modelling language, which allows the production of an immediately executable model of the ERTMS specifications, without any intermediary code generation. ERTMS Solutions has already developed an EFS model that is compliant with the requirements of Subset 026 and a Subset 076 automated test suite.