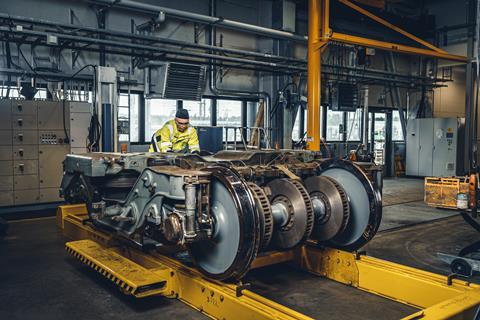 FINLAND: A project to optimise bogie maintenance through the use of data-driven condition monitoring has been launched by the national railway's rolling stock maintenance subsidiary VR FleetCare and automation and information systems supplier EKE-Electronics.
Sensors and data transmission systems will be installed on VR Group's locomotives and electric multiple-units this year, with the benefits expected to be seen next year. These are expected to include significant cost savings, with increased availability, reduced service disruption and improved safety.
VR FleetCare is the former VR Maintenance subsidiary of Finland's national operator, which has been rebranded as part of strategy to develop it as an independent company and seek international growth.
'Interest in condition-based and data-driven maintenance is strong in the rail industry', said Mikko Alanko, Director, Digital Services at VR FleetCare. 'This co-operation with EKE provides us with new ways to carry out bogie condition monitoring and serve our customers. Our aim is to generate savings of approximately 10% to 15%'.
EKE is to deploy predictive condition monitoring analytics technology which it acquired with the purchase of specialist company Humaware earlier this year. 'We have great expectations', said Karl Lönngren, EKE's Digital Services director. 'Our systems related to remote monitoring of trains are currently being deployed in Australia and on the London Underground. We believe that the co-operation with VR FleetCare will strengthen the position of both parties on the international market'.