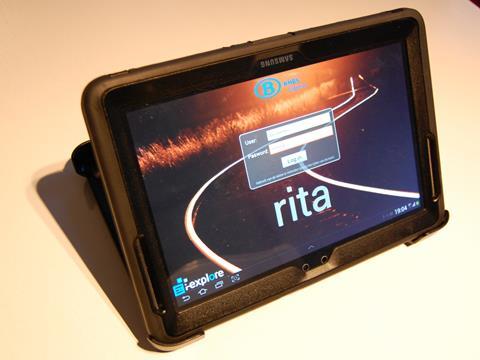 BELGIUM: Freight operator SNCB Logistics has provided all its drivers with Samsung tablet computers under the Rail Information Train Assistant project.
RITA eliminates the need to carry heavy documentation such as manuals and details of timetable updates. It speeds up the completion of time sheets and driver's reports, with all information now available centrally to enable deeper and wider-ranging analysis. Safety messages can be sent automatically and simultaneously to all drivers, who are now required to acknowledge the messages so that the company can track who has confirmed receipt. The improvement in communication has also facilitated more flexible deployment of staff.
ARC supplied the mobile device management suite, while I-Explore turned the outline concept into a mobile application and Mobistar provides the 3G data interchange.
'By equipping a traditional job like a train driver with the latest communication equipment, we have made significant progress in terms of quality and safety', said Rik Vos, COO at SNCB Logistics. 'The drivers themselves are enthusiastic about the user-friendliness of the tool. Since they can communicate with our central services in real-time, we can react much faster to any problems, which enhances the reliability of our operational performance.'