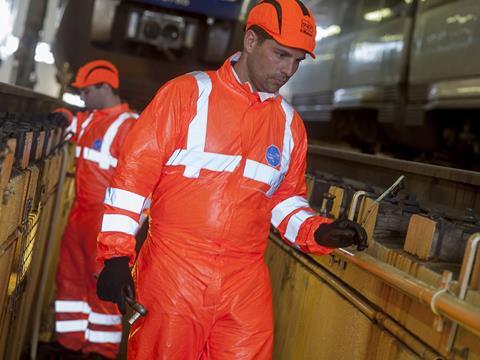 FRANCE: To meet an SNCF requirement for protective workwear which combines high visibility with chemical protection, DuPont Protection Solutions has developed Tyvek 500 HV disposable coveralls. These provide a barrier to low concentration, aqueous inorganic chemical products, as well biological risks encountered by staff inspecting trains following a collision with an animal or person.
The disposable garments can be kept in response vehicles ready for use in the event of an accident or when carrying out repairs.
They also help to reduce the number of items of protective clothing required; previously each worker had 23 woven, washable, high visibility garments.
'Since the coveralls are designed to be disposable, they will never be washed', said Lionel Delport, responsible for safety at SNCF's equipment management department. 'This enables them to retain their fluorescent and retroreflective properties until they are discarded, unlike woven apparel which may fade when subjected to repeated washing.
'The new disposable high visibility coveralls provide a real, long-term opportunity for cutting costs when it comes to washing protective clothing and supplying apparel to our workers', said Delport. 'It also eliminates the problem of PPE items not being returned after holidays.'