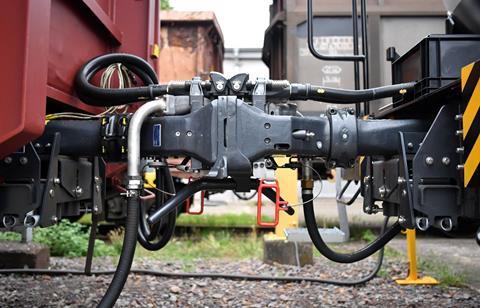 EUROPE: A memorandum of understanding committing to the EU-wide deployment of a digital automatic coupler by 2030 was signed by representatives of the European rail freight sector on September 18.
The signatories said Europe was 'trailing the world' as 'the last continent to use standard manual couplers'. However, deployment would be subject to the development of a sound migration plan, as well as financial and practical support from the European Commission and EU member states.
According to the freight operators, the choice of a DAC incorporating electric power and data bus lines would offer a 'unique chance to revolutionise European rail freight transport', and act as a 'key enabler for further digitalisation and automation'. Applications could include automated brake testing and electro-pneumatic braking, as well as the train integrity checks needed for the introduction of ETCS Level 3.
An EU DAC Delivery Programme is being set up under the umbrella of the Shift2Rail Joint Undertaking. This will consider the benefits of the available prototypes, define a DAC open standard, establish a feasible migration programme and identify a funding model for the transition process.
The cost of conversion has previously been estimated at €6∙5bn to €8∙5bn, with conversion of the German wagon fleet alone expected to cost €1∙5bn.
The sector-wide DAC initiative was launched by DB, ÖBB and SBB, which are already working with Ermewa, GATX Rail Europe and VTG to test 12 wagons fitted with couplers from four manufacturers.
The initiative is being supported by the Rail Freight Forward coalition of BLS Cargo, ČD Cargo, CFL Cargo, DB Cargo, Green Cargo, Lineas, LTE, ÖBB Rail Cargo Group, Ost-West Logistik, PKP Cargo, RENFE Mercancías, SBB Cargo, Fret SNCF, Mercitalia Rail and ZSSK Cargo, and by industry associations CER, CIT, ERFA, FTE, UIC, UIP and VDV.
Infrastructure managers, wagon keepers, railway undertakings and other participants in the European rail sector have also been invited to sign the MoU.