The 11th Infrarail exhibition takes place at the Excel centre in London's Docklands on April 12-14 2016.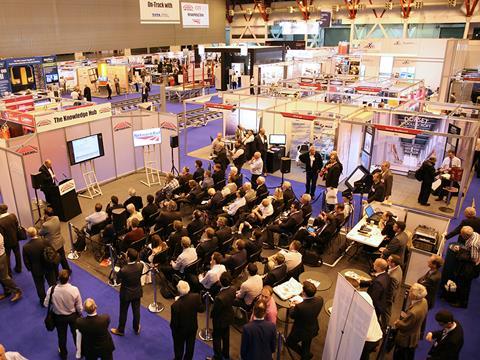 INFRARAIL: With Network Rail expected to spend more than £38bn on operations, maintenance, renewals and enhancements to its network over the five years to March 2019, a growing number of suppliers providing infrastructure materials and services see opportunities in the UK rail market. Add to that the strategic objectives set out by the Rail Supply Group and it is little wonder that more than 200 companies will be participating in this month's Infrarail trade fair. Of these, no fewer than 75 will be exhibiting for the first time.
The 11th Infrarail event organised by Mack Brooks Exhibitions will be co-located alongside the second Civil Infrastructure & Technology Exhibition, facilitating a cross-exchange of ideas from outside the traditional railway sector.
To be opened by Rail Minister Claire Perry, who will be making a keynote address on the first day, the event will include a range of speeches and presentations about major projects and supply chain initiatives in the UK. Other keynotes will be given by NR Chairman Sir Peter Hendy and David Waboso, Director of Capital Programmes at London Underground.
Among the leading infrastructure construction and maintenance companies taking part this year are Colas Rail and Kier Construction, along with track manufacturer Schwihag and Austrian rail profiling specialist Linsinger Maschinenbau. Sekisui will be promoting its FFU sleepers, which have just been installed by London Underground for the first time, as well as the bridge beams previously supplied to Network Rail.
The Italian manufacturer of overhead line maintenance equipment NAEF will be exhibiting for the first time, while road-rail specialist SRS Sjölanders will be profiling a range of designs, including the FRB25 multi-purpose vehicle supplied to Keltbray Rail. Windhoff will have details of its latest order to supply self-propelled maintenance machines for SBB. Socomec will be displaying its range of electrical power supplies, ranging from traction and signalling to buildings and rolling stock, including uninterruptable power supplies, switchgear and auxiliary batteries.
In the signalling sector, Park Signalling, Unipart Dorman and Selectrail will be joined by LC Switchgear and STT Solutions, which will be showing its level crossing control system linked to LED road traffic lights. The cabling sector will be represented by Prysmian Cables and Goldwing Cable, promoting its Exane low-smoke zero halogen cables authorised for use on London Underground. TE Connectivity will be showing its range of composite and hybrid insulators, as well as traditional porcelain insulators for distribution lines and busbars. ABB subsidiary PMA will be promoting its insulated flexible conduits, while Adaptaflex will be showing a new range of conduits specifically designed for the rail sector. Flexcon is launching a non-metallic conduit fitting, and Hellerman Tyton its new ladder-style heat-shrinkable cable identification markers.
A wide range of small plant and equipment manufacturers will be showing their latest products, including Cembre, Husqvana and Jafco Tools, as well as cordless tool specialist Hilti. Plant hire companies include Ashtead, Burdens and Keyline Rail. Semmco will be showing its lightweight modular access equipment for use in depots.
Access Design & Engineering will be showing a range of GRP components including platform extension modules, retaining walls and location cabinets. GRP drainage pits and access chambers will be presented by Aqua Group and Cubis, while Dura Composites will be launching its latest composite stair treads. BCM GRC will be displaying its lightweight elevated cable troughing, and ScottParnell Rail will be showing its GRP troughing as used by ÖBB.
Quietstone will be displaying its Track Slab sound-absorbing acoustic panel, which has been adopted for suburban lines in Perth. Abacus Lighting has recently supplied fold-down lighting columns for LU's Neasden depot and the new Thameslink facility at Hornsey. The new Echalon MkIII hinge for lighting columns, as used at Brighton depot, will be shown by the Aluminium Lighting Company.
Another first-time exhibitor is the AJT Engineering subsidiary of Camellia, which specialises in subcontract engineering services and the supply of machine tools. Panasonic will have details of the Toughpad FZ-M1 tablets which it is supplying to SNCB for onboard ticket inspection and sales.
As in previous years, several firms will be showing protective and high-visibility workwear, including the new Gore-Tex Foulweather range from Bodyguard Workwear and Signal Workwear from Safeaid Supplies. Pulsarail will be showcasing its Evolution range, while Arco will be launching its first range of hi-vis garments specifically designed for women in the rail sector.