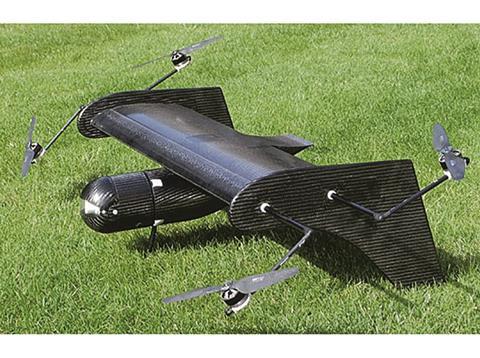 UK: A 'flying wing' unmanned aerial vehicle custom-designed to undertake highly-automated remote infrastructure surveying was unveiled by the AmeyVTOL joint venture of Amey and drone company VTOL Technologies at the Farnborough International Airshow.
The companies envisage rail applications including the routine inspection of bridges and electrification equipment, monitoring vegetation growth, inspecting flood and other unexpected damage, observing trespassers and responding rapidly to any infrastructure concerns reported by train crews.
The battery-powered UAV can carry multiple sensors including still, video infrared and thermal cameras, ground-penetrating radar, and Lidar. It can stream live images or upload information on its return to base, and this data can be combined with Amey's predictive maintenance systems. Work is underway to develop technology which would enable images from the drone to be compared automatically with previous data, to flag up any changes such as subsidence.
The UAV is custom-designed by VTOL, with the supply of the composite elements and electronics outsourced to specialist companies. The total weight is less than 7 kg, and the service speed is restricted to around 60 km/h.
AmeyVTOL director Ashley Bryant told Railway Gazette the patented flying wing design, which combines four rotors with an aerofoil, gives the drone 'incredible stability'. Take-off, flight and landing are fully automated, with the UAV flying itself in a defined corridor 3 m to 4 m wide, even in gusty wind.
The aerofoil design consumes around one-sixth of the energy of a conventional quadricopter, giving a range of around 150 km. In the event of two rotors failing the UAV can glide to safety, which Bryant said means it could be used over operational railways. Type approval is currently underway, and AmeyVTOL then hopes to demonstrate the drone at Network Rail's Old Dalby test centre. It could be in service in 18 to 24 months.
Bryant suggested the UAVs could be housed in small shelters at regular intervals alongside railway tracks. When an inspection was needed, an operator would send instructions for the UAV to open its shelter and fly along the specified route. On arrival at its destination the drone would land at a docking station with automatic recharging facilities.