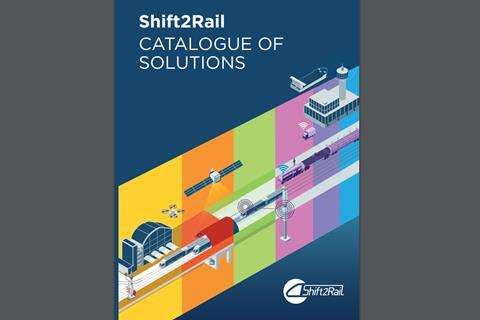 EUROPE: Freight is likely to be a core focus of the successor to the Shift2Rail joint technology initiative, S2R Executive Director Carlo Borghini told Railway Gazette on October 30 on the sidelines of the World Congress on Railway Research in Tokyo.
While the so-called Shift2Rail II programme cannot be formally established until the multiannual EU budget for the post-2021 period is finalised, Borghini felt that S2R's 'three years of progress' was already starting to yield results, as reflected in the Catalogue of Innovative Solutions which S2R unveiled at WCRR. These in turn reflect progress in more than 100 individual projects across five workstreams as well as the overarching 'cross cutting' activity.
Acknowledging that S2R had been 'a very broad programme', Borghini suggested that its successor would be more focused, with addressing innovation for freight operations a priority. 'This is the moment for rail freight', he said, noting that S2R's existing work on areas such as digital train brake tests and autocouplers 'fitted perfectly with political priorities of the incoming European Commission and its Green Deal'.
To this end, S2R hopes to demonstrate autocoupler technology at next year's InnoTrans trade show in Berlin as well as outlining how the technology could be rolled out across the European wagon fleet.
Governance questions
Borghini accepted that there had been 'lessons to learn' from S2R to date, especially given the programme's long gestation period from formal creation to the research projects getting underway. He also acknowledged criticism that S2R has been too reliant on the supply industry to come up with ideas to study, and that in future there would need to be a better balance 'between founders, lead investors and participants'.
'We are trying to rebalance the organisation towards end users and operators, but this is not easy because many of these organisations by necessity find it hard to support long-term fundamental research', he added.
Another priority will be to ease access to the programme for SMEs and start-ups, while improving geographical representation, especially from central and eastern Europe. 'The CEE region has specific needs for its railways and we need to be able to respond better to them', he believed. This could include reforms to the way funding is provided amid criticism that the administrative burden of S2R to date has been too onerous.
Brexit
Along with Trafikverket, Network Rail is one of two infrastructure managers to be founding members of S2R. NR and the other British participants will continue to be a member across the workstreams until the UK ceases to be an EU member state, with any future involvement to be determined at a political level.
'Until now by definition nothing has changed and cannot change about UK involvement in S2R', Borghini explained. 'But no organisation likes uncertainty and that is the problem really. We have workstream members asking if they can still have UK organisations in their consortia.' He felt there was a need at least to guarantee UK involvement until the end of S2R, irrespective of the date of the UK's withdrawal from the EU.
System of systems
Looking to the long term, Borghini believed that S2R would work to ensure that innovations are future-proofed by developing a functional architecture. 'We need a "system of systems" approach to ensure that as more results emerge from our programme in the future, we know that they will be compatible with existing products and operations.'
'There is no escaping the complexity of the railway but we can manage that complexity better', he added.
Websites
We are not responsible for the content of external sites