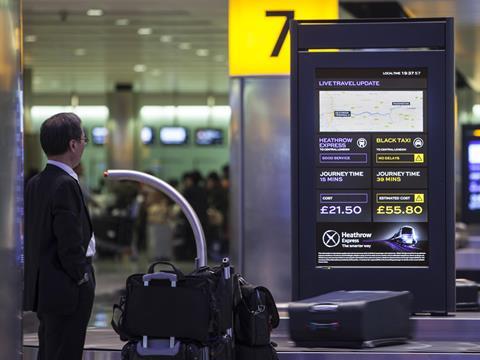 UK: Screens have been installed in the baggage reclaim area at London Heathrow Airport Terminal 2 showing passengers live price and journey time comparisons between taxis and the Heathrow Express train service to London Paddington station.
'The aim of the journey comparison generator is to enable Heathrow passengers to get into London as speedily, easily and cheaply as possible', said Heathrow Express director Fraser Brown. 'By harnessing many different sources of real-time data into one we are helping make this happen. Research shows Heathrow Express trains are three times faster than taxis and a quarter of the price. These screens show how that comparison varies minute to minute depending on traffic, weather and time of day.'
The screens at each baggage carousel are to be translated to the main language of people on the arriving flight, and later in the year they will be installed at Terminals 3 and 5.
The project was jointly devised and created by Heathrow Express, advertising space seller JCDecaux Airport UK and digital agency DOOH.com, which brought together five real-time data feeds from GPS traffic information used in TomTom car satnavs, Google, the Highways Agency, the Met Office and Heathrow Express timetable information.